8 injured in Istanbul car blast near military facility – officials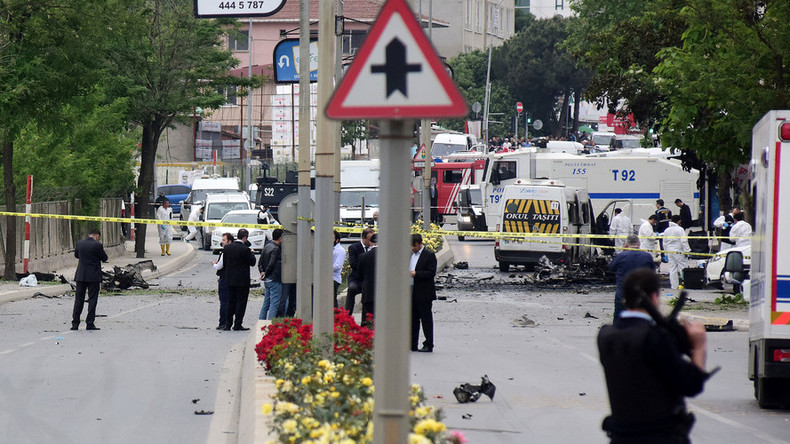 A car stuffed with explosives detonated outside a military barracks in Istanbul's Sancaktepe district, injuring eight people, according to the governor of Istanbul Province. Later on Thursday, a large explosion occurred outside the Kurdish city of Diyarbakır.
The official, Vasip Sahin, said that five military personnel and three civilians have been taken to a hospital, but none have suffered serious injuries.
According to Sahin, the explosive-packed car was parked 200 yards outside the entrance to the military facility, as the perpetrators of the attack lay in wait.
A military transport emerged out of the gates, and is it drew closer, the attackers remotely set off the car bomb. Sahin said that the bombers mistimed the detonation, and the van was still 30 meters away, meaning that worse casualties were avoided. Nonetheless, the vehicle's window panes were blown out, grazing those inside.
The resulting fire was extinguished by multiple fire crews, while paramedics continue to work on the site, which has been sealed off as a crowd of onlookers gathered. Police experts are examining nearby CCTV cameras, to see if the perpetrators can be identified.
The Turkish military blamed the attack on Kurdish separatists.
Since the escalation of the conflict with its sizable Kurdish minority last year, there has been a spate of attacks pinned on militant Kurdish groups, including a bombing in the capital, Ankara, in March, which killed 37 people.
On Thursday evening, Turkish media reported multiple injuries, following a blast in the district of Hani, in the majority-Kurdish province of Diyabakir.
READ MORE: 3 killed, 45 injured after explosion rocks Diyarbakir, Turkey – governor's office
Earlier this week, three police officers died and 45 people were injured when a car bomb was set off near a police van transporting suspected Kurdish separatists in the same area.
You can share this story on social media: