EU-Turkey migrant deal won't happen if Ankara doesn't budge - Juncker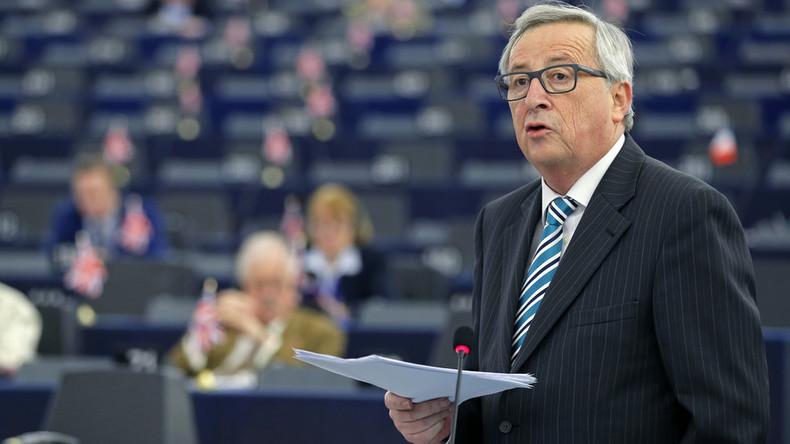 A landmark migrant deal between the EU and Turkey will collapse unless Ankara honors its commitments, EU Commission President Jean-Claude Juncker has warned. He specifically stressed that Turkey must make changes to its anti-terror law.
"We fixed criteria for visa liberalization, there are 72 of them and number 65 says that the Turkish government must review the anti-terror law," Juncker told a conference on Europe at the German Foreign Ministry on Thursday, as quoted by Reuters.
The statement is in reference to Europe granting Turkish citizens visa-free travel to the bloc, as part of a refugee deal under which Ankara agreed to take in all illegal migrants reaching Greece's shores from Turkey.
In order for the deal to be solidified, Brussels is demanding that Turkey make additional changes outlined in the deal, including narrowing its legal definition of terrorism. Ankara has been given until the end of June to meet the EU's criteria.
Speaking of the resignation of Turkish Prime Minister Ahmet Davutoglu, Juncker said that his exit cannot mean that agreements between the EU and Turkey are ignored.
"We put great value in the conditions being met. Otherwise this deal, the agreement between the EU and Turkey, won't happen. If [President] Erdogan decides to deny Turks the right to free travel to Europe, then he must explain this to the Turkish people. It will not be my problem, it will be his problem."
However, Turkey insists it has met all of the criteria laid out by Brussels, with Ankara's minister for EU affairs, Volkan Bozkir, saying during a Thursday news conference that such changes to the country's anti-terror laws were not previously outlined and would not be carried out.
His statements echoed comments from Turkish President Tayyip Erdogan, who threatened to walk away from the deal last week, telling the European Union: "We're going our way, you go yours."
Critics believe Turkey's broad anti-terror laws are being used to stifle dissent. However, Ankara insists the legislation is needed to battle Kurdish militants in the country's southeast, as well as threats from Islamic State (IS, formerly ISIS/ISIL) in neighboring Syria and Iraq.
Bozkir said that Turkey wants the process to continue, and that it would be "unacceptable" if the deal is "postponed in an unfair fashion."
Although Brussels is desperate to see the deal fulfilled, it seems unwilling to budge on the anti-terror law. Equally, Turkey has stressed that a deal is not possible without visa-free travel for its citizens.
Despite the apparent deadlock, the European Commission expressed optimism on Thursday, with spokesman Margaritis Schinas saying the deal was not "dead."
If the agreement is solidified, it will help Europe deal with the strains of the current refugee crisis. Under the agreement, Ankara would take back all illegal migrants reaching Greece from Turkey, and the EU would in return take in thousands of Syrian refugees directly from Turkey.
Europe is currently struggling to cope with the massive influx of asylum seekers who have poured into its borders. Over a million refugees arrived to the continent last year, most of whom hailed from Syria, where a civil war has killed more than 250,000 people and displaced more than 12 million since 2011, according to UN figures.
You can share this story on social media: