'They slept underground': RT explores covert ISIS fortifications in liberated Syrian town (VIDEO)
Extensive networks of underground tunnels and bunkers, dug out by ISIS terrorists to store ammo and weapons, have also served as sleeping quarters and shelters against airstrikes, an RT crew has discovered touring the liberated Syrian town of Shaddadi.
For nearly two years the town of Shaddadi in northeastern Syria was a stronghold of Islamic State (IS, formerly ISIS/ISIL). In February, fighters from the Syrian Democratic Forces (SDF), a coalition of Kurdish and Arab militias, battled the jihadists for 10 days before liberating the city in fierce fighting, supported by anti-terror coalition airstrikes.
Touring the remains of the war-torn city, the RT crew were impressed to glimpse for themselves a warren of tunnels and underground bomb shelters built by now-vanquished radical Islamist fighters. Militants used them to burrow under an enemy positions to plant explosives, create underground bunkers or run pipes to export illicit oil shipments.
IS also designed a comprehensive network of trenches so that fighters could avoid getting exposed as they maneuvered around the city undetected. In every house that RT visited, the crew discovered an underground facility.
Read more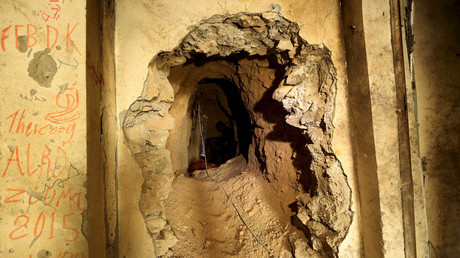 Furthermore the level of underground fortifications varied among the hierarchy of ISIS fighters, with rookie foreign recruits being forced to hide in less secure structures, while the elite were offered well-reinforced concrete bunkers.
One such bunker was dug out in the vicinity of an ISIS commander's premises, which according to an SDF guide served as a hideout from air strikes. A glimpse of an "emir's" house presented strong proof of a jihadist presence: military uniforms, explosive devices and special pieces of equipment were found in the rooms, along with a tunnel that had been filled in with gravel by SDF forces following the recapture of Shaddadi.
"Its [one tunnel's] length is about 200-300 meters. It is designed for protection against air strikes," an SDF soldier told RT. Underground protective structures used by foreign ISIS fighters at the same time are "narrow" with just "gravel" protection against air strikes.
Touring another ISIS house, RT was told that as the SDF forces moved in, ISIS fighters abandoned their homes and sought refuge in the safety of the tunnels.
"This is one of ISIS' fortifications," the SDF guide said showing RT the structure. "This is one of the rooms where they used to hide. They didn't sleep in the houses, they slept here."
READ MORE: RT documentary exposes dirty oil secrets, ISIS ties with Turkey
Inside the house RT discovered hundreds of ISIS documents, including photos relating to the Iraqi army, as well as photos of members of the Syrian government. Names of hundreds of local and foreign fighters were also unearthed.
The capture of Shaddadi left the so-called IS capital city of Raqqa as the only major terrorist stronghold in northeastern Syria. Since 2014 Shaddadi served IS as a preparation spot for attacks against the Kurds in Hasakah Province, and a strategic cross point in the Mosul–Raqqah route.