UN urges Turkey to allow probe in southeast, says lack of info 'fuels suspicion'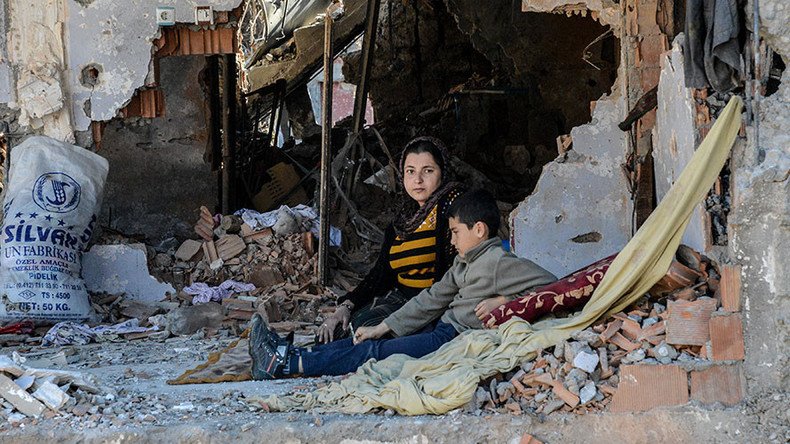 The UN has urged Turkey to allow investigators to probe allegations of abuse by security forces in their campaign against the Kurdistan Workers' Party (PKK) in the country's southeast. It says it has received reports of unarmed civilians being shot.
"While Turkey has a duty to protect its population from acts of violence, it is essential that the authorities respect human rights at all times while undertaking security or counter-terrorism operations," UN human rights chief Zeid Ra'ad Al Hussein said in a Tuesday statement.
In particular, the UN wants to investigate reports that more than 100 people were burned to death in the town of Cizre while sheltering in basements surrounded by Turkish forces.
It also wants to probe allegations that government forces took disproportionate action, contributing to the destruction of public infrastructure and private property, as well as the mass displacement of locals, AP reported.
"In 2016, to have such a lack of information about what is happening in such a large and geographically accessible area is both extraordinary and deeply worrying," Al Hussein said. "This black-out simply fuels suspicions about what has been going on. I therefore renew my call for access for UN staff and other impartial observers and investigators, including civil society organizations and journalists."
Also on Tuesday, Human Rights Watch (HRW) urged Ankara to investigate claims of Turkish border guards shooting and abusing Syrian refugees.
Turkey launched its offensive against the PKK in July 2015, ending a two-year ceasefire agreement and reviving a conflict that has claimed more than 40,000 lives since 1984.
The operation has been widely criticized by European leaders and international human rights groups.
In March, Russian Foreign Minister Sergey Lavrov stressed that reports of massive human rights abuse against Kurdish people in Turkey's southeast must be investigated.
"Any reports, particularly those documented ones, about rude and large scale human rights abuse and violations of international humanitarian law must be investigated. There are special international procedures for that," Lavrov said in a joint press conference with Egyptian Foreign Minister Sameh Shoukry.
Also in March, RT launched a petition urging the UN to investigate claims of alleged mass killings of Kurdish civilians. The petition followed a report from an RT crew who traveled to Diyarbakir, the unofficial capital of the Turkish Kurds. There, they filmed the warzone and spoke to relatives of a 17-year-old civilian victim.
READ MORE: Chilling revelations: Diyarbakır, city of the dead and missing (RT EXCLUSIVE)
But despite international criticism aimed at Ankara, Turkish President Recep Tayyip Erdogan said in April that the time for peace talks was over, adding that counter-terror operations would continue until the last PKK fighter had either surrendered or was "neutralized."
READ MORE: PKK fighters must surrender or be 'neutralized'
Kurdish militants are fighting for the right to self-determination and greater autonomy for Kurds – demands which Ankara rejects. As of early April, almost 400 soldiers and police and several thousand militants had been killed since the conflict was restarted in July 2015. Opposition parties said at the time that between 500 and 1,000 civilians had also been killed in the fighting.
You can share this story on social media: