Satellites capture utter devastation of Alberta wildfires far beyond Fort McMurray (PHOTOS, VIDEO)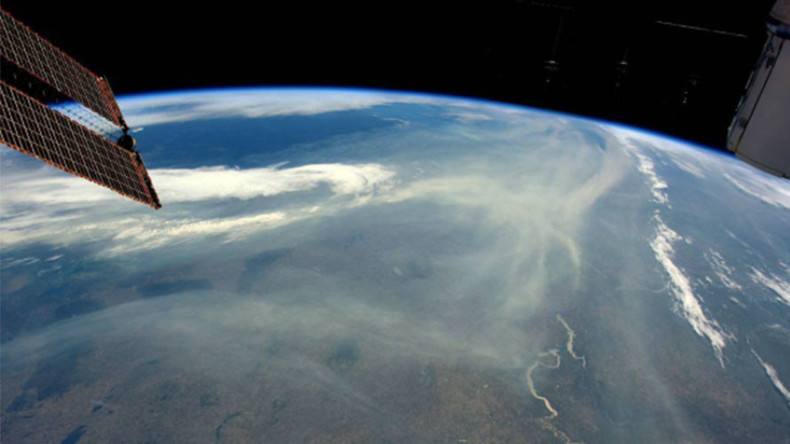 New satellite images show just how much damage the Fort McMurray wildfires are causing not just in Canada, but also thousands of miles away in the US.
With huge swathes of the Alberta forest ravaged by the fires, images from satellite operator DigitalGlobe show what Canadian authorities have been dealing with.
Although it may seem a given, this map of the area shows what NASA describes as "the unusual heat" generated by the fires.
READ MORE: Before & After: Satellite images show wildfire devastation wreaked on Fort McMurray (PHOTOS)

The heat map shows how ground temperatures soared to 32 degrees Celsius (90 Fahrenheit) on May 3, when the fire was still in its infancy.
It's not only the immediate area around Fort McMurray that has been affected though, as is clearly shown in this NASA image captured on Sunday.
This photo shows how the smoke has drifted thousands of km eastwards towards the Atlantic Ocean - even reaching the US east coast states of Maryland and Virginia.
Meanwhile, British astronaut Tim Peake has tweeted jaw-dropping images from on board the International Space Station which also starkly reveal how far the wildfire smoke has drifted eastwards and now covers "vast areas of North America across to Atlantic coast".
With the fire sweeping across more than 200,000 hectares (494,211 acres), more than 2,400 buildings have been destroyed and more than 80,000 people have been evacuated.
READ MORE: Canada hopes for rain to stifle wildfire, rejects international assistance
Footage from Fort McMurray gives a glimpse into just how catastrophic the fire has been in residential areas, and just what lies in store for some householders when they can eventually return home.
Putting out the fire isn't the only concern for authorities in the area, however.
This image from NASA's Aura satellite shows the high levels of nitrogen dioxide in the area. According to the US EPA even short-term exposure can have "adverse respiratory effects," particularly among asthmatics, children, and the elderly.