Battle-tested hardware, jets over Moscow & female officers: Best moments from V-Day parade (VIDEOS)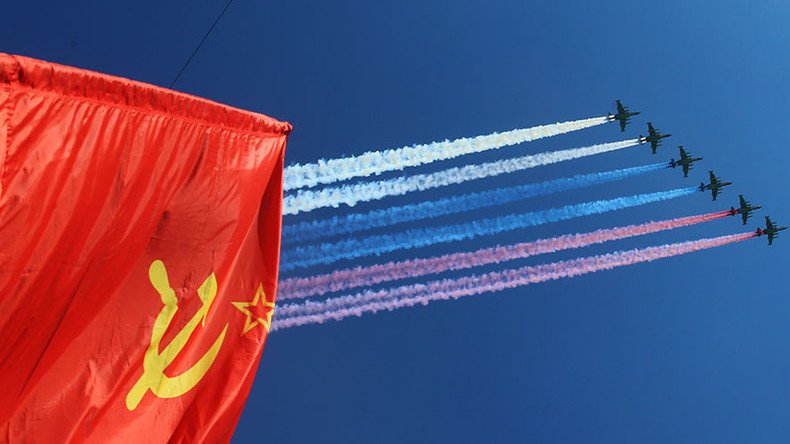 Military aircraft back from Syria, now flying over Moscow, was one of the most impressive moments of this year's Victory Day parade in Moscow. The only thing that could outshine that was a first-ever march by serving female officers in the Russian armed forces.
The female officers were out on the Red Square in crisp white uniforms, in sharp contrast to their male counterparts' dark greens, blues and khakis.
The female squadron formed part of the best-of-the-best 10,000 Russian service personnel who took part in the parade, alongside 135 military vehicles and 71 aircraft.
But apart from the impressive figures, one of the most spectacular features of this year's Red Square parade was the aerial fly-past.
Almost all the aircraft that participated in the parade have been taking part in an air operation against Islamic State forces in Syria.
The Sukhoi SU-24M and Su-34 tactical bombers were the main force of the Syrian operation, eliminating terrorist strongholds and hardware with surgical precision from high altitudes.
Russia's Tu-95MS Bear strategic bombers had never been tested in battle before, despite having been deployed in the Air Force for over 60 years. They made their first combat missions in Syria, eliminating ISIS targets with long-range Kh-101 cruise missiles.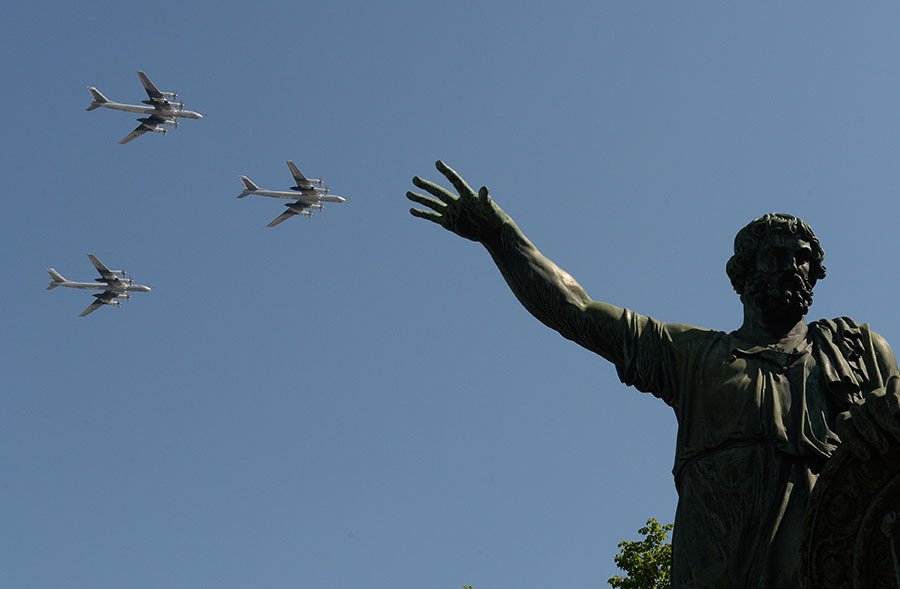 The same weapon was used in Syria operation by Tupolev Tu-160M supersonic strategic bombers, also never used for battle missions before. The world's largest bombers in service, armed with 12 Kh-101 cruise missiles, delivered precision airstrikes throughout Syrian territory.
The Tupolev long-range Tu-22M3 supersonic bombers that zoomed above Red Square on Monday have also been eliminating terrorist targets in Syria, using convenient and high precision bombs.
The world's largest military cargo aircraft, the Antonov AN-124 Ruslan strategic airlifter and the thoroughly modernized Iliushin IL-78 cargo planes, are currently busy delivering supplies for the Russian task force in Syria.
Mil Mi-8 battle-transport helicopters, K-52 Alligator assault helicopters, Mi-28N Night Hunter gunships have all been providing air support for the Syrian army battling terrorists.
And finally, the Sukhoi Su-25 assault aircraft that ended the 2016 Victory Day parade have been and still are hunting down terrorist vehicles and stationary targets in Syria.
On the ground, the formations of military hardware were led by the symbol of the Great Victory: a T-34 tank.
Modern military equipment from Russia's armed forces included a column of armored personnel carriers Tiger, Arbalet and Kornet-D.
The stars of last year's parade - Armata T-14 tanks and Armata-based heavy APCs were again there on the Red Square.
High precision mobile tactical ballistic missile systems Iskander-M, air-defense missile systems S-400 Triumph, Tor-M2U, Buk-M2, Pantsir-S dual cannon and missile air-defense vehicles all rolled through Red Square. All except the Tor-M2U are currently present at Russia's Khmeimim air base in Syria.
The artillery was represented with self-propelled howitzers Msta-S and the most advanced Koalitsia vehicles.
A crucial component of Russia's future nuclear deterrence, the Yars nuclear ICBM missile mobile launchers, were also on display.
Boomerang armored vehicles, also newcomers in the Russian armed forces, completed the parade, carrying the flags of all Russia's military services.
You can share this story on social media: