German course teaches migrants how to flirt with women (VIDEO)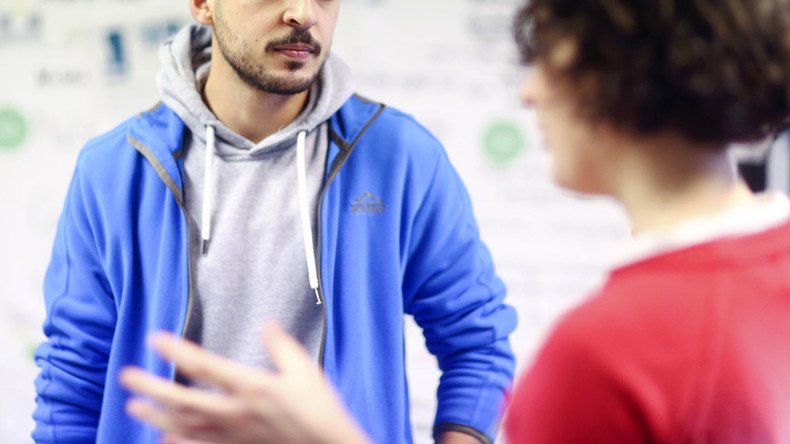 A German education center is teaching migrants how to approach and get acquainted with local women. Asylum seekers learn at the classes that "No means no," along with basic hygiene rules.
"How do we speak to German women?" is the question sex therapist Christian Zech has to commonly deal with at the classes with migrants. Zech works with the Pro-Familia center, specializing in sexuality, partnership and family planning. It is funded by donations as well as government subsidies.
Bayerischer Rundfunk television filmed one of the classes teaching migrants how to get along better with women.
Today several Pro-Familia outlets teach young migrants how to approach a woman in a country they want to call home now. The classes in Ingolstadt, Neuburg and Eichstätt are meant for those who speak German on at least a basic level.
"The majority don't have a clue how to approach the opposite sex in this country," Zechs says.
The "proper" flirting behavior is being sharpened with the help of Zech's female aide, "Jenny," who talks to young migrants and comments on how they perform.
The girl gives tips on how to behave, such as, "Proceed slowly, step by step," "Don't be too pushy," and "Don't jump on a woman because you like her."
At the end of the training, Zech makes a point of stressing again that "a no is really a no." After that the participants get a reminder card dedicated to sexual hygiene.
The classes explain to migrants that being offensive during romantic encounters is counterproductive and fruitless.
"Today I learnt to speak decently," says Sadik from Somalia, who has been living in Germany for two years but has only just now attended an integration class.
The attitude toward migrants abruptly changed to negative among the majority of Germans following the alleged wave of sex attacks and acts of sexual harassment on New Year's Eve, the worst taking place in the city of Cologne. The German government came under fierce criticism for its so-called "open door" policy toward migrants.
"I think only a few refugees are dangerous," Zech said in an interview with Donau Kurier in March. Some of the migrants are "very shy" and "do not dare to look at girls."
Still, according to his observation, some 10-20 percent of refugees have a pejorative image of women.
"My job is not to protect the Germans against refugees, but to ensure that both do well together," Zech said.
You can share this story on social media: