'Air tankers won't stop Alberta fire': Massive Canadian blaze spreads to 85,000 hectares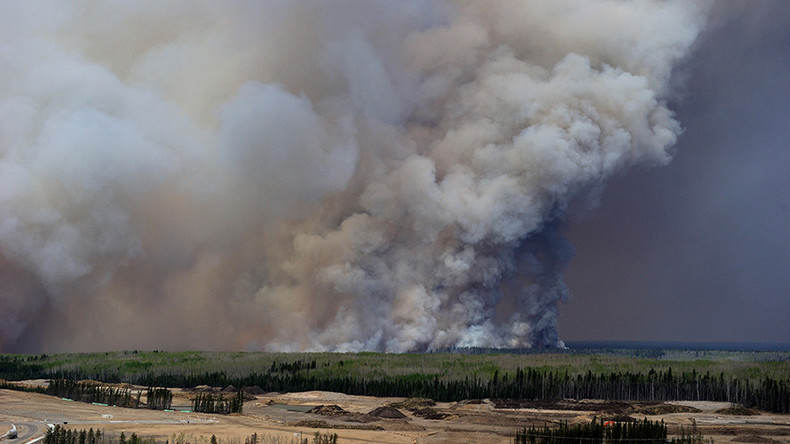 Canadian fire officials battling wildfires in Alberta warned the only thing that could stop the blaze was a lot of rain. The latest damage estimates indicate that the Fort McMurray fire could cost insurance companies around C$9 billion ($7 billion).
On Thursday, the enormous fire that had already destroyed hundreds of homes and encircled a city and several communities was picked up by 70 kilometer-per-hour (44mph) winds and spread to 85,000 hectares.
The most severe part of the roaring front moved south of Fort McMurray, with no signs of stopping.
Over 1,110 firefighters, 145 helicopters, 138 pieces of heavy equipment, and 22 air tankers are fighting a total of 49 wildfires across Alberta, seven of which are currently considered to be out of control, according to the provincial government.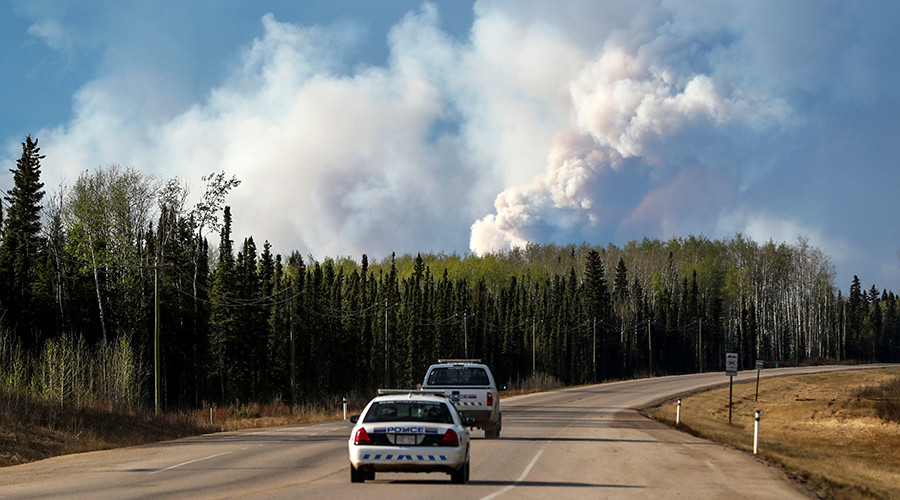 Despite all the firefighting efforts, the blaze around Fort McMurray is expected to grow stronger.
"Let me be clear, air tankers are not going to stop this fire," Chad Morrison, manager of Alberta's wildfire prevention, said at a briefing on Thursday. "This is an extreme fire event. It's going to continue to push through these dry conditions until we actually get some significant rain to help us."
However, the fire is expected to move further away from the populated areas.
"We expect the fire to continue to grow in the southeast corner," Morrison said, "but it will be going away from the community."

More than 90,000 people have by now been forced to evacuate the city and surrounding areas, which are located in the core of Canada's oil sands region, often under severe conditions.
Some of those who fled Fort McMurray were transported to nearby Anzac Recreation Centre, Gregoire Lake Estates, and Fort McMurray First Nation, which were all eventually evacuated on Wednesday due to the fire threat. Evacuees are now being moved to Lac La Biche, which is around 280 kilometers away.
Meanwhile, some 25,000 people are currently staying in several oilsands work camps north of the city awaiting air transport to Edmonton by later on Thursday.
The damage is already projected to be grave. Bank of Montreal (BMO) estimates the fire could cost insurers around C$9 billion ($7 billion) if the whole city of Fort McMurray is destroyed.
Firefighters inside the city are still trying to contain the fire, while several districts have been completely destroyed by the blaze.
Moreover, BMO economists warned that the estimate could rise since it only includes potential insurance claims and doesn't account for economic damage, including loss of oil production.
"As much as 500,000 barrels per day is now offline," BMO economist Robert Kavcic said, referring to temporary shutdowns at Suncor and Shell operations located north of Fort McMurray.
Over 1,600 homes and buildings have been destroyed so far. The fire also reportedly caused major damage near the Fort McMurray International Airport overnight, and there are still no flights going in our out.
"It has begun to create its own weather, even creating its own high winds yesterday, and even lightning was coming from the smoke clouds," Morrison said.
Tany Yao from the Legislative Assembly of Alberta confirmed to RT that only "little progress has been made" in terms of battling the massive inferno in Alberta.
"The wild land fires continue to just burn out of control. Temperature is cooler today, but unfortunately the winds are higher," Yao said. "We are just happy to be getting support that we are from not only the province, but federally. The government of Canada has also expressed their desire to help and support."
Yao described the situation in Fort McMurray, saying that the houses by forest pockets were the worst hit. "Some entire neighborhoods got ravaged. But, fortunately, a lot of the major infrastructure, like the hospitals and water treatment plant have been spared."