Monster haul of 71mn-yr-old dinosaur fossils unearthed in Antarctic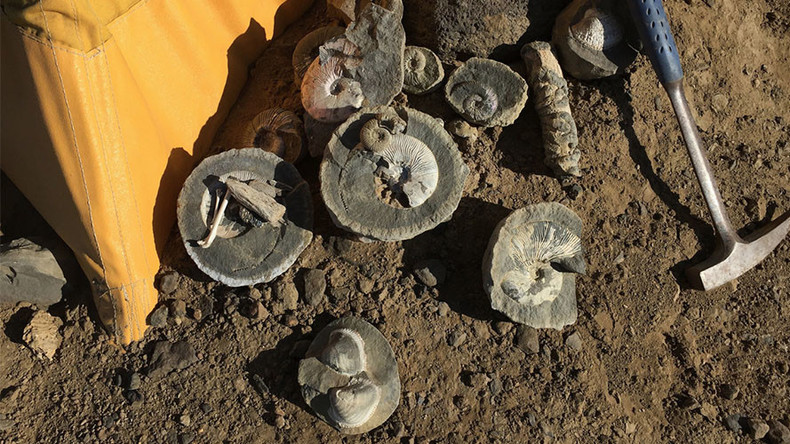 A team of international scientists has made a remarkable discovery, unearthing more than a ton of fossils and dinosaur remains in Antarctica. Some of the fossils are believed to be 71 million years old.
The team, consisting of 12 scientists from the US, Australia, and South Africa, made the discovery during a trip to James Ross Island, located near the northeastern extremity of the Antarctic Peninsula.
"[We found] things like plesiosaurs and mosasaurs – a type of marine lizard made famous by the recent film Jurassic World," Dr. Steve Salisbury from the University of Queensland, who took part in the mission, told the Australian Broadcasting Corporation (ABC).
Salisbury added that the "really great fossils" were "all shallow marine rocks, so the majority of things we found lived in the ocean."
Fossilized birds were also found, including early ducks from the end of the Cretaceous period.
The location of the expedition was strategic, as it is one of the few parts of Antarctica where rocks are exposed during the summer. Those rocks are known to come from the age of dinosaurs.
'Working in Antarctica is tough'
Despite the location being a desirable one for the team, getting there was anything but easy. The scientists first had to fly to South America and sail to the Antarctic Peninsula. From there, they used helicopters and inflatable boats to make their way across sea ice and finally reach the shore.
Arriving on shore was particularly remarkable for Salisbury, who had previously made several attempts to get to Antarctica. Those past attempts were thwarted by sea ice, which had made reaching land impossible.
"It was so great to finally get there and have a full blown expedition," he said. "It's a very hard place to work, but it's an even harder place to get to."
Once they arrived, the scientists camped for almost five weeks on Vega Island, and had to hike 10km (6.2 miles) each day through mountainous terrain and extreme temperatures to reach the main field site at Sandwich Bluff.
"Working in Antarctica is tough," Salisbury concluded.
The fossils are now in Chile, and will eventually be shipped to the Carnegie Museum of Natural History in Pittsburgh, USA.
"A lot of the bigger bones will need quite a bit of preparation before we can do much research on them," Salisbury said. "It may be a year or two before we get the results out."
You can share this story on social media: