16-yo girl burnt alive in Pakistan for helping couple elope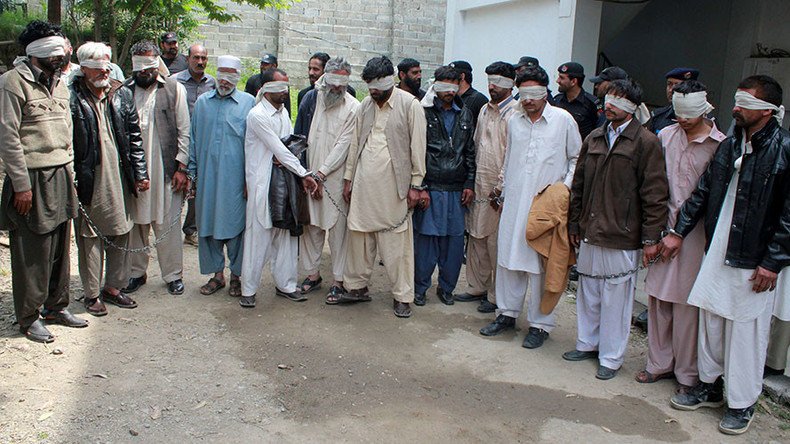 Tribal elders in Pakistan have been arrested for ordering the brutal murder of a 16-year-old girl who helped a couple elope. The girl was bound and burned to death in the vehicle used for the escape.
The murder happened last week in the town of Donga Gali, about 50km northeast of the capital, Islamabad, Reuters reported.
The so-called honor killing was ordered by the elders as punishment after the victim helped a couple from the nearby village of Makol. The couple violated cultural norms when they ran off together, and the elders saw the 16-year-old's participation in the act as causing irreparable damage to the village's reputation.
The elders "took her to an abandoned place outside the village and made her unconscious by injecting her with some drugs," said district police chief Saeed Wazir.
"Then they seated the girl in a van in which the couple had escaped. They tied her hands to the seats and then poured petrol on her and the vehicle."
The vehicle was then set ablaze, he said, adding that: "I hadn't seen such a barbaric attack in my whole life."
Reuters said 15 members of the tribal council were arrested in the case, as were the mother and the brother of the victim, who allegedly attended the meeting where the punishment was ordered and agreed to it. AP said there were 13 people arrested and said the girl was strangled to death rather than drugged before the van was set on fire.
Tribal councils have no legal power in Pakistan, but are often called to settle local conflicts in northwestern tribal regions of the country.
Hundreds of honor killings - an archaic tradition meant to restore family honor through the death of an offender - are committed in Pakistan each year. Relatives of the victims are often involved in such crimes.
Few cases of honor killings ever go to court, and in those that do the accused are often pardoned by judges under a norm stemming from sharia law. Pakistani legislators are trying to close that loophole.
You can share this story on social media: