Israeli general slammed for implying Israel - Nazi Germany similarities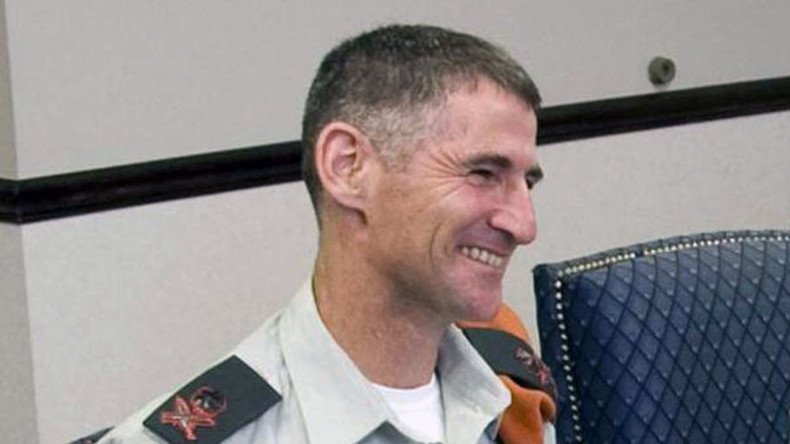 An IDF general has come under fire after his remarks suggested a parallel between Nazi Germany and present day Israel in his Holocaust Remembrance speech. The controversial comments fueled heated discussion among politicians and on social media.
"It's scary to see horrifying developments that took place in Europe begin to unfold here," Israel Defense Forces Major General Yair Golan said, addressing an audience at Tel Yitzhak in central Israel.
On Wednesday, Israel along with Jewish communities around the globe marked Holocaust Remembrance Day.
The general added that "the Holocaust should bring us to ponder our public lives and, furthermore, it must lead anyone who is capable of taking public responsibility to do so."
"Because if there is one thing that is scary in remembering the Holocaust, it is noticing horrific processes which developed in Europe – particularly in Germany – 70, 80, and 90 years ago, and finding remnants of that here among us in the year 2016."
Golan called "to uproot the first signs of intolerance, violence, and self-destruction that arise on the path to moral degradation."
"There is nothing easier and simpler than fear-mongering and threatening. There is nothing easier and simpler than in behaving like beasts, becoming morally corrupt and sanctimonious."
READ MORE: Israelis rally for release of soldier who finished off wounded Palestinian attacker
The general also commented on the recent case of Elor Azaria, an IDF soldier who was indicted for manslaughter for fatally shooting a Palestinian attacker who had already been wounded and immobilized, in the West Bank in March.
"Improper use of weapons and violating the sanctity of arms have taken place since the IDF's founding," he said.
Though Golan didn't make a direct comparison by name between Israel and Nazi Germany, his remarks sparked huge discussions among Israeli politicians.
Education Minister Naftali Bennett demanded that Golan retract his remark, while Justice Minister Ayelet Shaked told local media that Golan was "a little confused" and his statement showed "a lack of understanding, if not a disrespect of the Holocaust."
Israel PM Netanyahu disapproved of Golan's speech, Haaretz reported, citing sources in the Prime Minister's Office.
"With all due respect to the deputy chief of staff, the prime minister believes he was mistaken in his comments and it's good he fixed them," the sources quoted Netanyahu as allegedly saying.
The IDF hurried to explain in a statement that Golan's comments did not compare Hitler's Germany to Israel.
"This is an absurd and baseless comparison that he never would have made and it was never his intention to criticize the Israeli government," the IDF said, as cited by AP."The IDF holds itself to high standards of conduct and holds the value of human life as a guiding value."
Golan also took to Israel's Army Radio, where he said that he had "no intention of comparing the IDF and the State of Israel with things that went on during the Nazi period."
"There was no intent to draw such a parallel or to criticize the civilian leadership," he added.
Defense Minister Moshe Ya'alon also rushed to defend the general, adding that he has "full confidence" for Golan who is a "valued commander, driven by values and many accomplishments."
"The attacks on him due to intentional, distorted interpretations of something he said yesterday, are an additional attempt of a worrisome campaign to inflict political damage on the IDF and its officers," the Defence minister added.
However, critics continued speculating about Golan's comments.
"Disturbed people who will start shouting now against him ought to know, this is what morality and responsibility sound like," center-left opposition leader Isaac Herzog wrote on Facebook.
Former Israeli Foreign Minister Tzipi Livni also took to Facebook, saying that "instead of persecuting the deputy chief of staff whose conscience and values represent the IDF as a moral army that examines itself, it is more important for us to listen to his words."
According to Knesset politician Zehava Galon, Golan's words "reflect the depth of serious crisis between military commanders and the political echelons who undermine IDF values and encourage militancy," as cited by Haaretz.
Golan's comments divided social media, with some saying that the remarks were probably the end of his career, while others calling him their "moral compass."
You can share this story on social media: