Fort McMurray wildfire: Airport in danger, state of emergency declared, 2 die amid mass evac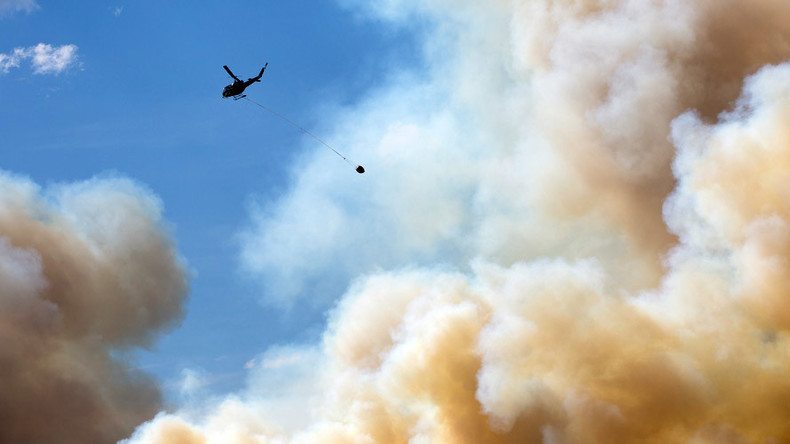 Canada's western Alberta province declared a state of emergency as a massive fire in Fort McMurray forced 88,000 residents to flee, with two deaths reported due to an accident during evacuation. Hundreds of homes have already been consumed by the blaze.
The latest update from Municipal Affairs Minister Danielle Larivee revealed that the fire is raging in residential areas, while crews face very challenging and volatile conditions.
The blaze has now spread to 10,000 hectares.
Alberta Premier Rachel Notley said that around 1,600 homes have been destroyed in Fort McMurray so far. A boil-water advisory has also been issued for the region due to the possibility of contamination and all flights in and out of Fort McMurray airport have been suspended.
The mass exodus caused by the fire has been described as the largest evacuation in Alberta's history, with one fatal traffic accident reported that killed two people on secondary highway 881, which has been designated for evacuees.

Larivee added that it is not yet known whether the accident was in any way connected to the fire.
The fire has reportedly crossed the intersection of Highways 63 and 69, which means that evacuating traffic can no longer pass northbound or southbound.
The fire is reportedly getting close to the Fort McMurray International Airport, while a residential community near the airport has already been evacuated. Images from the scene reveal creeping heavy smoke.
The Regional Municipality of Wood Buffalo confirmed that the fire is heading towards the airport.
The municipality also released estimates of potential damage. The Waterways and Beacon Hill neighborhoods look to be the worst hit, with 90 percent and 70 percent of the houses there, respectively, projected to be lost.
Meanwhile, Notley began working with the Federal Government to plan measures to be taken once the fire is under control.
"We've begun conversations with our federal partners about work that will need to be done with respect to restoration and recovery, once the fire is brought under control."
The Canadian military has dispatched helicopters and transport planes to help out with the massive wildfire.
The cause is still unknown, but investigators have said the blaze originated in a heavily forested area just south of the Athabasca River, southwest of Fort McMurray. Authorities are calling it the "Horse Creek Fire."
Senior wildfire manager Chad Morrison said at a briefing that it would be another couple of days before any concrete evidence surfaces on what started the wildfire.
"At this time of year, human causes are generally what we see, but we've also had lighting fires early in the season, so at this point we're working with investigators," Morrison said.
Many volunteers, municipalities and private companies have stepped forward to help the evacuees.
A non-profit organization called Northlands has set up a reception center at the Expo Centre in Edmonton that can accommodate up to 1,300 people, with medical staff readily.
The Edmonton Humane Society is present at the site to help evacuees deal with their pets.
The Canadian Red Cross has stepped up by taking in donations, while Edmonton's Food Bank is busy distributing food to evacuees.
Fort McMurray residents with car troubles are being offered free services, such as tire changes from Fountain Tire, while ordinary locals have flooded social media with offers to help stranded motorists.
Some local banks have even gotten involved, with the Bank of Montreal introducing deferrals on loan payments to customers affected by the fire.
People flee just with 'clothes on their back'
Many Fort McMurray residents have been in a state of shock since rushing to evacuate, leaving all of their possessions behind to be possibly lost in the fire.
"I'm just so scared for my city," Krista Balsom, who was forced to quickly evacuate with her husband and daughter on Tuesday, told the Calgary Herald. "I'm just so nervous for everyone else and so scared for what my city is becoming as we speak."
Many took to Twitter to post accounts of their "harrowing" evacuation journeys online.
As some were driving out of the area on the very brink of a huge fire wall, they saw helicopters dropping water right on top of municipal buildings that had caught fire nearby. "There is a huge amount of surrealism and a massive amount of adrenaline. It just feels like a movie," Mallory Hood told the newspaper.
Dwayne Roth, the CEO of the Fort McKay Metis Community Association, said that some people were arriving at the emergency centers with just the "clothes on their backs.""We don't have much, but we're certainly trying our best to help as much as possible, and we certainly need more help."
Health and Safety professional Jenine, posted: "We had to run from our home with nothing. Had to abandon our car. Our neighbors picked us up. #ymmfire we are out of Abasand!"
Some described feeling literally sick upon realizing that their relatives' houses had burnt down.