Honey, I shrunk the kids: Japan's child population hits historic low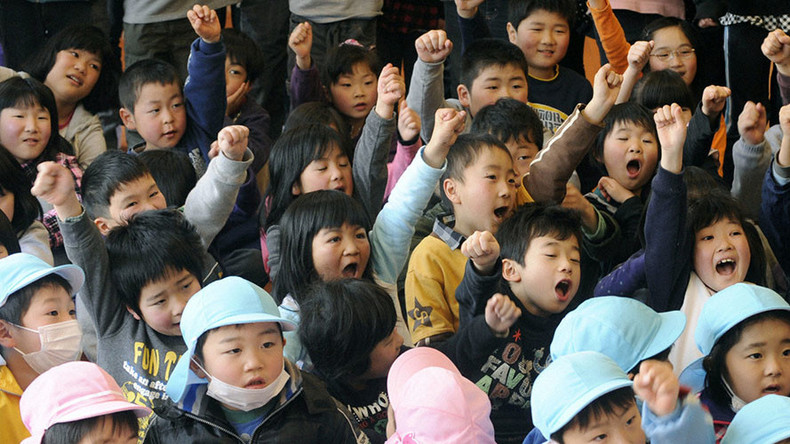 The number of children under the age of 15 in Japan has hit a historic low, recent government figures say, after 35 straight years of decline. The country's newborns comprised the smallest group.
The figures were released by the Ministry of Internal Affairs and Communications before the country's Children's Day, which is to be celebrated Thursday.
The number of children aged 14 or under was 16.05 million as of April 1, 2016. This figure was down 150,000 on 2015.
Currently there are 8.22 million boys and 7.82 million girls aged 14 or under in Japan.
READ MORE: Fukushima radiation killing our children, govt hides truth - former mayor
The worrying statistics show, however, that the newborns to 2-year-olds comprise the smallest group of children. According to the ministry, there are only 3.07 million babies, while the biggest group, of 12-14 olds, totals 3.42 million.
The data also includes a breakdown of the number of children by Japanese prefectures. Only Tokyo out of 47 prefectures managed to increase the number of children over the year.
The highest ratio of children was recorded in Okinawa prefecture (17.4 percent), while Akita Prefecture had the lowest, at 10.6 percent.
The country had 29.89 million children in 1954, but this number gradually declined up until the baby boom in the 1970s. It showed a decline again after 1982.
Many factors have been blamed for the decline, ranging from a strict immigration policy, gender inequality, and even a lack of interest in not only having children, but also sexual activity among the young.
According to an October 2013 Guardian report, the Japan Family Planning Association (JFPA) said that 45 percent of Japanese women aged 16-24 "were not interested in or despised sexual contact."
According to the data from the World Bank, Japan's fertility rate is 1.4 births per woman, one of the lowest in the world.