German court fines PEGIDA founder for inciting hatred on FB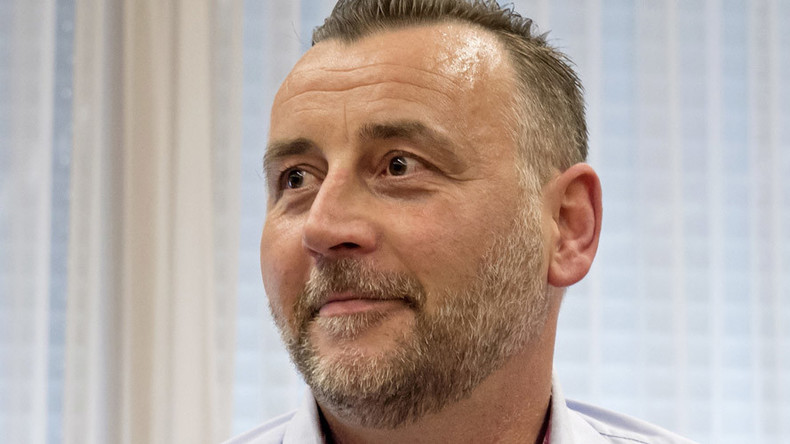 A court in the eastern German city of Dresden has found Lutz Bachmann, founder of the anti-immigrant PEGIDA movement, guilty of inciting hatred towards refugees in a series of FB posts in which he branded the migrants "cattle" and "scum."
Bachmann was tried for breaching section 130 of the German criminal code that imposes a prison sentence from three month to five years on those inciting hatred "against a national, racial, religious group or a group defined by their ethnic origins." Although the prosecution demanded a 7-month jail term for Bachmann, the court opted for a milder sentence, ordering him to pay a fine of €9,600 ($11,044), which is the equivalent of €80 per day for 120 days.
Read more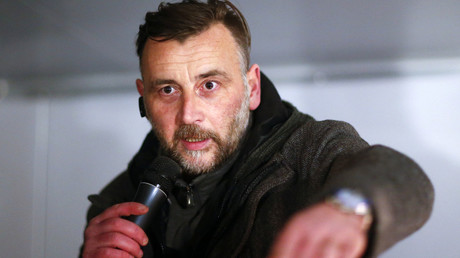 Bachmann's lawyer, Katja Reichel, claimed that the posts in question, which appeared on PEGIDA's official Facebook page in October 2014, were not, in fact, authored by Bachmann, but rather had been added by an unidentified perpetrator who hacked into her client's account. The defense also argued for acquittal on the basis of freedom of speech.
However, presiding Judge Hans-Joachim Hlavka dismissed Bachmann's claims of false authorship, arguing that as "the chat wasn't subsequently altered. I exclude manipulation," Mopo24 reported. Hlavka stressed that the freedom of speech clause cannot be invoked in this case, as Bachmann's statements are of "inciting character" and constitute a criminal offense.
"This is inacceptable. This has an inciting character. Human dignity has been violated," he stressed, adding that Bachmann could face real time behind bars in the case of a repeat offence.
READ MORE: Thüg life: German right-wing demonstrators clash with anti-fascists on Hitler's birthday
In arriving at the verdict, the court took into account a video showing a February PEGIDA rally 2015 in which Bachmann seemingly justified his outrageous FB remarks by saying "Some screenshots have emerged, which were partly altered and shortened, in which I used a few words that we've all used, I'm sure, in our local pub."
The prosecution still has time to appeal the court's judgment before it comes into effect.
"We will consider next week, if we proceed against the verdict," Lorenz Haase, the senior prosecutor of Dresden said, according to Mopo24.
Bachmann himself has repeatedly claimed that the proceedings against him are politically motivated. In February he branded the process as "a constructed and politically-motivated trial" and wore black sunglasses shaped as a censorship bar at the opening of his trial in April
"I will hunt down the judgement via all courts," assured Bachmann's defender Katja Reichel.
Screenshots of Bachmann's FB comments were published in January of 2015 by a former FB friend, Susanne K., to prove that he had lied in an interview in which he denied being xenophobic. Susanne K confirmed that she had put up the derogatory comments Bachmann had made under articles she had published in October of 2014, which served as one of the key supporting pieces of evidence in proving the incitement case.
As a leader of the far-right, anti-immigrant party, Bachmann has never been a stranger to controversy. He was forced to temporarily leave his post as PEGIDA chairman in January of 2015 after a selfie of him posing as Hitler surfaced on the web.
Bachmann argued that the photo was a satirical take on Timur Vernes' novel "Look Who's Back," which describes Hitler reappearing in modern-day Berlin.
"I am sorry to have damaged the interests of our movement, and I am facing the consequences," he said at the time.
Bachmann also has a questionable criminal record, having been charged with burglaries and sentenced to three years and eight months in prison in 1998. He fled to South Africa to escape the punishment, but was then extradited and jailed for 14 months. In 2010, he was caught in possession of cocaine and given a suspended sentence.
PEGIDA, which stands for "Patriotic Europeans Against the Islamization of the West," has been exploiting the anti-immigrant agenda since its emergence in late 2014. The movement, originally established in Dresden, has gained popularity in Germany and abroad, holding rallies against "Islamization," refugees, and German Chancellor Angel Merkel's open door migrant policy. At its peak, PEGIDA meetings attracted some 25,000 participants.