'Non, merci!' Protests in Paris as highly unpopular labor reform bill reaches parliament (PHOTOS)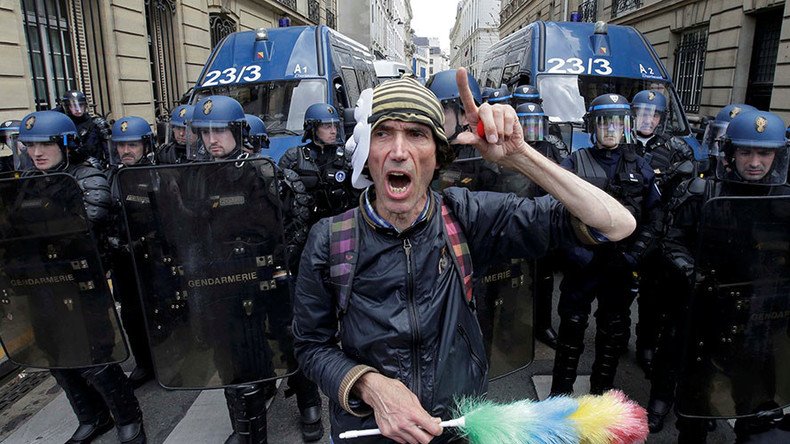 Hundreds of people have taken to the streets of France as the highly unpopular labor reform bill has reached the parliament. The bill has been causing protests all across the country, many of them turning violent, with tear gas deployed and dozens arrested.
Thousands of demonstrators have gathered at Le Square des Invalides near the National Assembly in the French capital. "Labor law, no thank you!'" the protesters shouted.
The bill "destroys social rights and corresponds to the dangerous and unproven principle that we need to ease layoffs today so that employment recovers tomorrow," the head of the Force Ouvriere union, Jean-Claude Mailly, told AP.
Various unions and student groups called for demonstration at the National Assembly on Tuesday as the lawmakers started debating the bill.
"The time has come to allow parliament to embellish the text. Should we give in to street protests and pull this text? No," Labor Minister Myriam El Khomri, who proposed the bill, told France's Le Parisien newspaper.
She added that the bill might be as many as 40 votes short of the support it needs to become adopted by the National Assembly.
French President Francois Hollande supported Khomri, saying that the bill is a "fair compromise" that "provides businesses the visibility and the adaptation they need."
READ MORE: Police use teargas, arrest 12 anti-govt protesters in Paris as rally turns violent (VIDEO)
According to Khomri's proposed reform, employers would pay only 10 percent of overtime bonus, instead of the current 25 percent. The bill technically maintains the 35-hour working week but says that in case of "exceptional circumstances," employees can be asked to work up to 60 hours a week.
The proposed bill sparked huge demonstrations across the country that have been going on since early March. The rallies were partially called by a Facebook community dubbed Nuit Debout (Rise Up At Night). The protests repeatedly turned violent with officers clashing with demonstrators and police firing tear gas at protesters. Almost every rally ended with arrests of the participants.
READ MORE: Tear gas, clashes, vehicles set on fire: Anti-labor reform protests rock France (PHOTOS, VIDEOS)
On Monday a group of Socialist lawmakers said they are opposed to the bill.
"This bill is not useful for France or for the common good. It is not in line with the reforms that one expects from a government of the left," they said in a statement, as cited by AFP.
Similar demonstrations have been held in the French cities of Rennes, Nantes and Limoges.
Police in Nantes deployed tear gas against the protesters, France Bleu newspaper reported.
You can share this story on social media: