Police use teargas, arrest 12 anti-govt protesters in Paris as rally turns violent (VIDEO)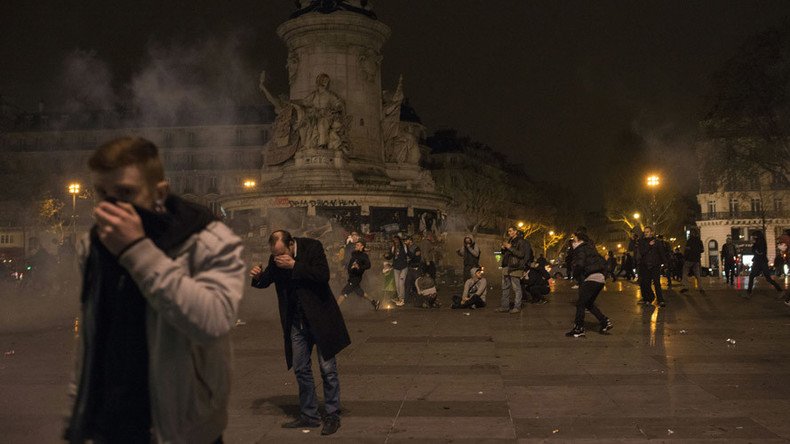 Paris police fired teargas to disperse a group of 100 people after fresh clashes erupted at the Place de la Republique overnight. Twelve anti-government protesters were arrested for participating in an Occupy-style 'Nuit Debout' rally and throwing projectiles.
A police car was "willfully set on fire and completely destroyed" during the clashes, authorities said in a statement, according to Le Figaro. "Despite calls to disperse by the police, the clashes further intensified... requiring use of tear gas." No injuries were reported.
Police warned of the "renewal and escalation of acts of violence" after "Nuit Debout" ("Rise Up At Night") sit-ins "despite numerous warnings to organizers and participants."
The latest arrests bring to nearly 50 the number of people detained in the heart of Paris since the start of the "Nuit Debout" movement.
The protests over proposed labor law reforms have been happening daily since March 31 when mobs of some 400,000 students marched in several cities across France in a movement dubbed "Nuit Debout." Demonstrators and union members have been cheesed of by the prospect of more hours and less pay.
According to the new reform, proposed by Labor Minister Myriam El Khomri last month, employers reduce unemployment through a number of measures, including reducing payment for working beyond 35 hours.
READ MORE: Teargas, pepper spray v projectiles: Youth protests engulf French capital (VIDEO, PHOTOS)
Employers would pay only 10 percent of overtime bonus, instead of the current 25 percent. According to the movement organizers, the government wants to change current protective labor laws to make it easier and less costly for employers to lay off workers. The government argues that the new law is meant to help open up jobs for younger people.
You can share this story on social media: