Huge migrant camp evacuated from under Stalingrad metro station in Paris (PHOTOS)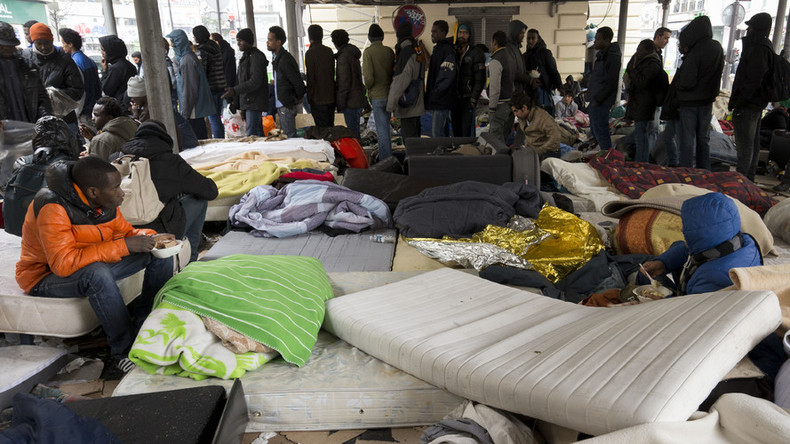 A huge migrant camp under the Stalingrad metro in the French capital is being evacuated, local media reported. The notorious camp with hundreds of asylum seekers earlier saw fierce battles between refugees.
Shortly after 6:00am local time (04:00 GMT), the first migrants, including those from Sudan and Afghanistan, began to board buses to take them to refugee shelters.
French security forces were positioned early Monday morning near the station, Le Parisien newspaper reported. The authorities blocked the traffic in the area and closed the station.
READ MORE: Brawl of Stalingrad: Fierce battle erupts at migrant camp under Paris metro station (VIDEO)
"They will be sent to [migrant] centers in Ile-de-France [region] and other provinces," said Sophie Brocas, secretary general of the Prefecture of Ile-de-France.
Between 400 and 500 asylum seekers were registered in the camp earlier on Sunday, according to French media.
Ninety minutes after the start of the operation, three quarters of the migrants had been evacuated.
"We are glad to leave," Mustafa, a 24-year-old Afghan refugee, told Le Parisien. "There were fights every night at the camp."
The camp has already seen two evacuations. French Interior Minister Bernard Cazeneuve announced the removal of the camp on March 30 in a joint statement with Paris Mayor Anne Hidalgo, but the migrants returned with makeshift mattresses every time.
Earlier in April, the camp witnessed fierce battles between asylum seekers. Hundreds of migrants were seen attacking each other with metal poles, planks of wood and other debris in an alarming video, recorded by residents from a nearby building. At least four people were seriously injured.
You can share this story on social media: