Serbian opposition protests election returns, demands 'every single ballot' be recounted (VIDEO)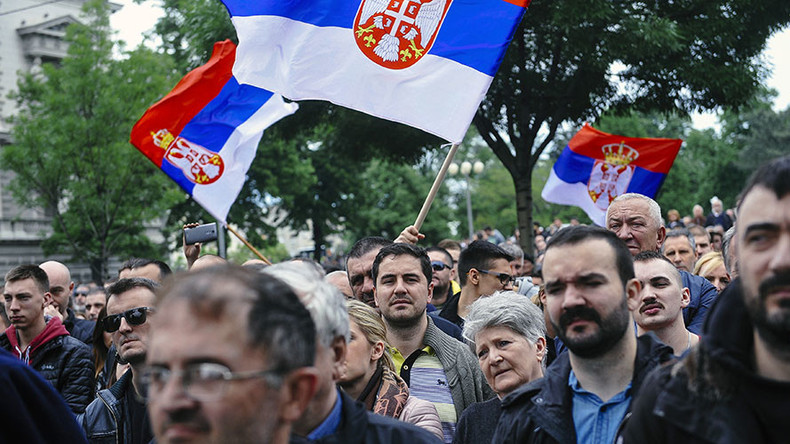 Hundreds of opposition protesters have blocked the main streets in the Serbian capital of Belgrade, accusing the government of fraud in the last week's parliamentary elections and demanding a recount and the resignation of the electoral commission.
Prime Minister Aleksandar Vucić, who aims at taking Serbia into the European Union, secured 48.24 percent of the vote in Sunday's elections, which is a minor variation on his 2014 performance. However, the number of parliamentary seats which his Progressive Party received this year has decreased since more parties managed to cross the five percent threshold.
The Democratic Party of Serbia and ultra-nationalist alliance Dveri (DSS/Dveri) failed to get the number of votes needed for parliamentary representation after a recount of about two percent of votes.
They gathered in front of the electoral commission office on Saturday, chanting "we want our votes" and "this is fraud," Reuters reported. Members of other parties, including right-wing organization Obraz, the Liberal Democratic Party and several others were also present.
"He [Aleksandar Vucić] lost the elections despite all the manipulation. We have a strong suspicion that he stole votes, and we are talking large numbers here," said Saša Radulović, the leader of the Enough is Enough party.
International observers who watched over the elections registered only minor irregularities, which included biased media coverage, advantage for the incumbent, and blurring of state and country activities. However, the fundamental rules, they said, were observed.
The elections will be re-run at some 15 polling stations on Wednesday, May 5 since the election commission didn't allow to hold a nationwide recount.
"On Wednesday we will supervise all polling stations...Wednesday will show the true results of the election," Radulović said to the opposition parties protest standing in front of the State Election Commission headquarters in Belgrade.
He also said that "this is the beginning of the end of Aleksandar Vucić", while the crowd kept chanting "he's gone, he's gone."
"Every single ballot is a cornerstone of democracy and must be defended as such," Boris Tadić, Serbia's former president and the head of the Social Democrats, said addressing the crowd.
The election rerun is hoped to strengthen the position of Boris Tadić's leftists alliance as well as to guarantee that DSS/Dveri make it to parliament. At the same time it could backfire by giving more priority to Vucić's Progressive Party.
The parliamentary elections in Serbia were initially scheduled for March 2018. However, in January 2016 Vucić called for early elections to be held in April, saying that Serbia "needs four more years of stability so that it is ready to join the European Union."