At least 21 killed, 42 injured as ISIS car bomb targets Shiite market near Baghdad – officials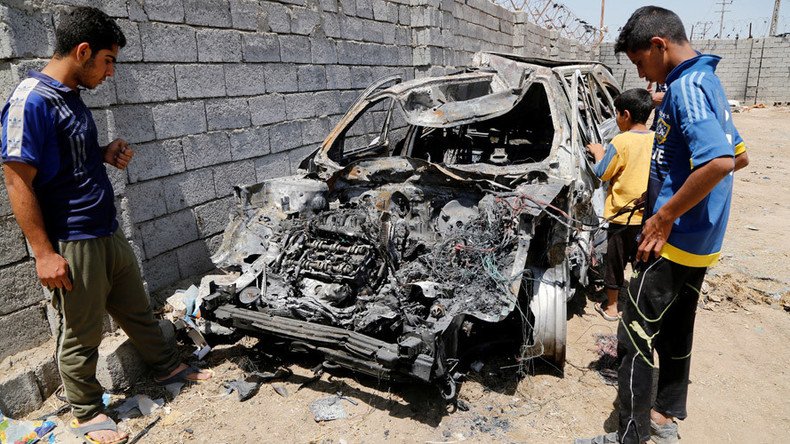 A car bomb killed at least 21 people near the Iraqi capital security officials have said, according to AP. The bomb targeted a Shiite open air market in Nahrawan. Terror group Islamic State claimed responsibility for the deadly attack.
The attack targeted Shiite civilians who were attending a market, which sold livestock, fruit and vegetables, Iraq's Interior Ministry said. Earlier Islamic State (IS, formerly ISIS/ISIL) and local officials said the bombing had targeted Shiite pilgrims who were making their way to the Imam Musa Kadhim shrine.
"It was not a road for people walking toward Kadhim,'' said Brig. Gen. Saad Mann, a spokesman for the Interior Ministry and Baghdad Operations Command, according to AP.
Kadhim was the seventh of 12 imams revered in Shiite Islam who died in 799 AD.
The event is widely commemorated and Baghdad is often brought to a standstill for days.
In 2015, at least 32 people were killed in three attacks on Shiite Muslims in one day ahead of the religious holiday.
Mann added that the attack in Baghdad was carried out by IS in revenge for territorial losses the terrorist group has suffered across Iraq recently. "The only strategic weapon left for them are (suicide bombers),'' Mann said.
Baghdad has been hit by a wave of suicide attacks, with over 30 people dying in just over the space of a week.
On April 22, nine people were killed following a suicide attack on a Shiite mosque in southwest Baghdad. IS claimed responsibility for the atrocity. The blast took place after Friday prayers, when the bomber detonated his explosive vest.
A second suicide attacker was shot and killed by security forces before he could set off his explosives, police sources said.
A day later, IS said it was behind two separate car bomb attacks in Baghdad, which targeted security forces and left 12 people dead. On Monday, a suicide attacker detonated a bomb in a Shiite area of eastern Baghdad, which killed at least 11 people.
You can share this story on social media: