Russia, US agree to 'regime of silence' in parts of Latakia & Damascus, Syria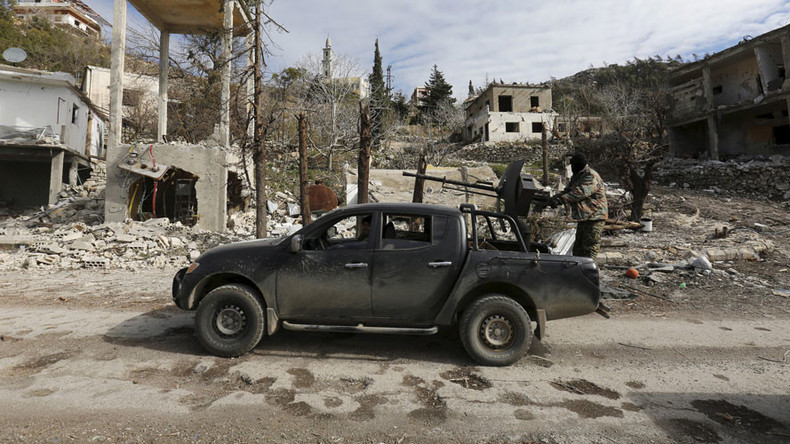 A "regime of silence" will start in Syria's Latakia Province from midnight on Friday and will last for 72 hours, according to the head of the Russian Center for Reconciliation.
"The Russian and US sides in concurrence with the Syrian leadership are introducing a 'regime of silence' in northern part of Latakia Province from 12:01am local time on April 30, 2016," Lieutenant General Sergey Kuralenko said on Friday as cited by TASS.
"During this period, conducting warfare and use of all types of weaponry will be forbidden," he explained.
Kuralenko called on all parties interested in the peace in Syria "to support Russian-American initiative and not allow the disruption of the 'regime of silence'."
The head of the Russian center for reconciliation of the warring parties in Syria stressed that the monitoring reveals that the ceasefire introduced on February 27 is "being respected in general."
"There's no 'slipping' to the resumption of hostilities. Peaceful life is returning to towns and villages, allowing reconstruction of damaged infrastructure and provision of humanitarian assistance to begin," he stressed.
He said that more and more communities are joining the ceasefire, not observed by such terror groups as Islamic State (IS, Deash, formerly ISIS/ISIL) and Al-Qaeda-affiliated Al-Nusra Front.
Seventy-four towns and villages from Homs, Hama, Damask, Daraa and Aleppo Provinces have contacted the Russian Center for Reconciliation to confirm they desire to end hostilities, Kuralenko said.
Preliminary agreements on joining the ceasefire were reached with another six settlements in Hama on Friday, he added.
READ MORE: 'Violation of sovereignty': Moscow slams Obama decision to send 250 more US troops to Syria
"Since the Russian center for reconciliation was opened, 52 paramilitary units with a total strength of 6,500 people and operating in the provinces of As-Suwayda, Quneitra, Hama, Homs, Damascus, Daraa and Aleppo, have joined the ceasefire," the general said.
"Twenty-one cases of shelling of inhabited localities by militants have been registered over the past day," Kuralenko said.
State-run Sana news agency reported that three people were killed and 25 wounded when mortars hit mosque in Aleppo when worshipers were leaving after the Friday prayer.
The Syrian military said in a statement that the "regime of silence" will be observed in the Eastern Ghouta area, east of Damascus, and the northern countryside of Latakia.
The hostilities will be banned in for 24 hours in Damascus suburbs and for 72 hours in Latakia, the statement said.
Washington and Moscow are now working together to ensure the ceasefire in Aleppo and Latakia Provinces is not violated, US Special Envoy for Syria Michael Ratney said on Friday. The official said that no additional local measures would be introduced, but general rules for ceasefire should be observed in the areas where they have been mostly violated, RIA Novosti reported.
The Russian Foreign Ministry stressed the importance of boosting coordination between Russia and the US in terms of monitoring the implementation of the ceasefire in Syria. Moscow also urged all the interested sides to do everything it their power to support the ceasefire.
Earlier reports claimed that the "regime of silence" would also include Aleppo, which is currently the scene of heavy fighting, but they weren't confirmed.
READ MORE: Syrian Army planning offensive on ISIS 'capital' Raqqa aided by Russian jets
Russia's Aerospace Forces have been carrying out anti-terrorist campaign in Syria since September 30, 2015, with airstrikes helping the Syrian army to turn the tide on the battlefield in its favor.
Some 220,000 people have been killed in Syria since the civil war began in 2011, according to UN estimates.
You can share this story on social media: