20 arrests as 'Dump Trump' protesters block road, clash with cops in Orange County (VIDEO)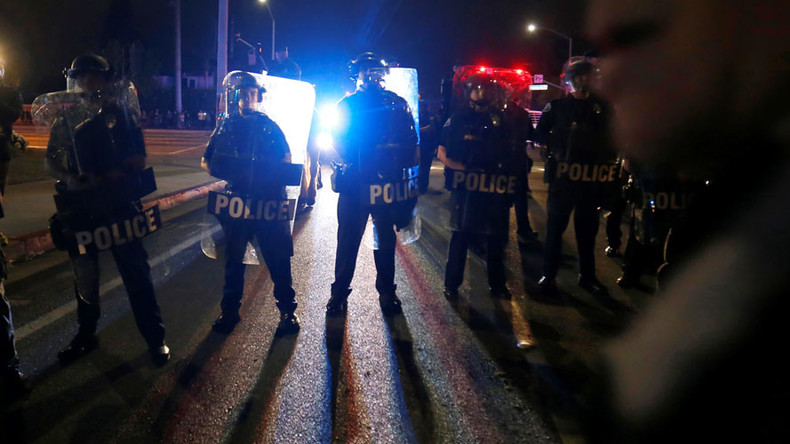 Hundreds of anti-Trump protesters blocked traffic outside the campaign event of leading Republican Candidate, Donald Trump, in Orange County, CA, clashing with officers, damaging police cars and throwing stones at motorists.
The windows of several police cruisers were smashed in the protest on Thursday, and a police sport utility vehicle had its tires punctured, the Los Angeles Times reported, adding that the rioters also attempted to overturn a police vehicle.
The protesters split along a street with one side "chanting peacefully and occasionally breaking out into song and dance," while the other side smashed police car windows, according to CBS News.
The angrier part of the crowd used benches to block the entrance to the 55 Freeway along Newport Boulevard near the Orange County amphitheater where Trump's supporters had gathered. The demonstrators threw stones and other debris at passing vehicles, which "appeared to be mostly Latinos in their late teens," the paper said.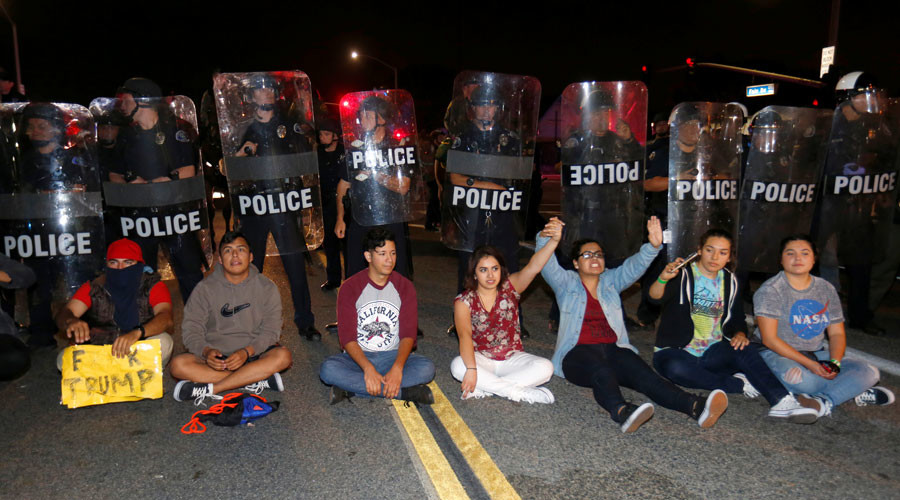 Approximately 20 people were arrested, the Orange County Sheriff's Office said on Twitter, adding there were no major injuries during the riots. CBSLA.com said the rally was "very large and very aggressive."
#OCSDPIO Post Trump Rally Protest over. Approx 20 arrests by Costa Mesa PD. No major injuries. Crowd dispersed by 11pm. No further updates

— OC Sheriff, CA (@OCSD) 29 апреля 2016 г.
Around 200 police officers in riot gear, some of them mounted, provided security during the Trump event.
The crowd was protesting against Trump's immigration policies. He proposes building a wall on the US-Mexican border and has suggested that many Mexicans arriving in America are rapists.
They were waving Mexican and American flags and carried signs, reading: "Dump the Trump","Build a wall around Trump" and others.
"Donald Trump is worthless. There won't be no [sic] United States without Mexicans," one of the protesters said.
One of Trump's supporters, wearing a "Make America Great Again" hat, said that "these people are stupid but Americans are not stupid in general… These are all underage Mexican high schoolers who have nothing to do."
Other pro-Trump rally participants said security was insufficient despite the large police presence on site.
"It definitely got out of control. I shouldn't feel this unsafe," one of them said.
Earlier on the night, there were several scuffles between pro- and anti-Trump supporters, KTLA reported.
A number of Trump campaign rallies have been marred by violence, an example being the many protesters ejected by police from the controversial candidate's event in Bridgeport, Connecticut.
A few days before that, Black Lives Matter demonstrators and Trump supporters clashed in Harrisburg, Pennsylvania.
You can share this story on social media: