Rabbi ruse: 'Jewish' religious teacher turns out to be Catholic cook, flees Polish town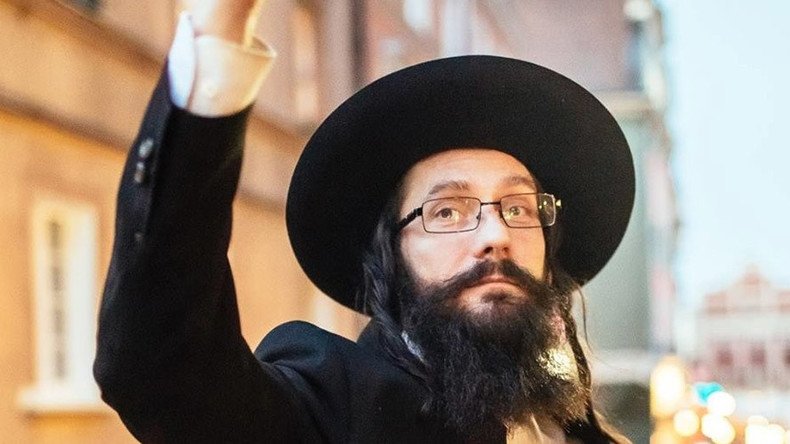 A man who for years served as a community rabbi in the Polish town of Poznan has disappeared amid a shocking discovery that, far from having a holy background, he is in fact a Catholic cook.
Jacoob Ben Nistell, aka "Yaakav", admitted that he isn't a rabbi a fortnight ago. But now events have taken a new turn: he has deleted his Facebook page and disappeared from Poznan.
"I know him, but that's no Nistell, [it's] Jacek Niszczota. He's from Ciechanow," an anonymous caller told the local broadcaster, putting a stop to the long-standing deception.
Polish journalist Krzysztof Kazmierczak investigated the 'rabbi', and reported that Nistell is indeed Jacek Niszczota, a Catholic from Ciechanow, a town in north-central Poland, where he worked as a cook. The man himself used to say he was from Haifa.
The 'rabbi' had conducted Judaism-related activities for kids and youths in the local community for a few years, and took part in ecumenical prayer services with Polish bishops. He also allegedly carried out interfaith meetings with priests and imams.
Reports add that he worked as a volunteer, and never asked to be paid for his services.
It also turned out that no one had even thought about taking a look at the alleged fake preacher's passport.
"I'm surprised. I never checked his identity document. He said he comes from Haifa, his mother still lives there, and he has an Israeli passport and a son in the army. I believed that he is who he says he is because of how he looked and that he was able to pray in Hebrew and knew Jewish customs," Alicja Kobus, president of Poznan's Jewish community, told Glos Wielkopolski.
Surprisingly enough, some took the events as a sign of growing interest towards Jewish culture.
"Who, 30 years ago in this country, would have pretended to be a rabbi, to say nothing of 70 years ago?" said Michael Schudrich, the chief rabbi in Poland, as quoted by the Times of Israel.
Schudrich added that he had met Niszczota/Nistell a few times, and always found him to be "very sweet and smiley."
You can share this story on social media: