Bataan Death March survivor Jesse Baltazar dies at age 95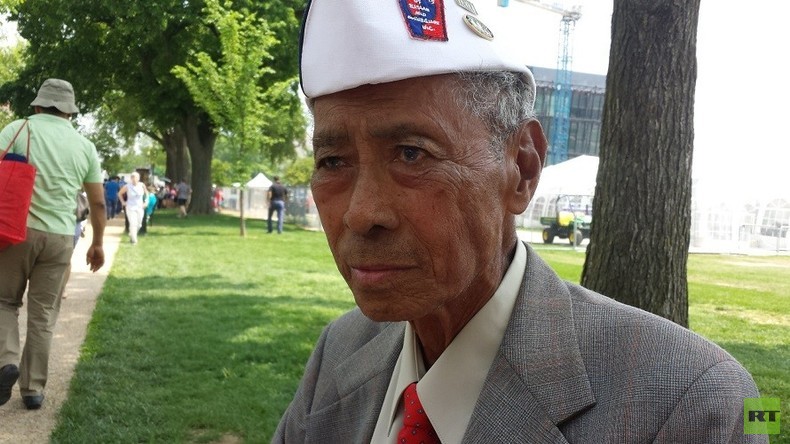 Jesse M Baltazar, a survivor of the notorious Bataan Death March during World War II, has died from cancer aged 95.
The Filipino native joined the US military after Japan bombed Pearl Harbor and was wounded in the leg by Japanese bombing during the three-month Battle of Bataan in March of 1942.
He was captured the following month and became one of the 80,000 American and Filipino prisoners of war that were marched 97 kilometers by Japanese troops towards Camp O'Donnell, a prison for captured soldiers.
READ MORE: Japan denies forced sex slavery WWII to UN, despite signing landmark deal with S. Korea

In what he called a "rush of adrenaline," a delirious Baltazar somehow managed to escape on the third night of the march and paid a local fisherman $20 to sneak him through the swamps to freedom on a boat.
Though numbers vary, the toll was heavy. Up to 10,000 Filipino and 650 American prisoners of war died before reaching the camp, and another 10,000 people are estimated to have perished after they got there.
READ MORE: History lesson with a difference: Surreal 'History of Japan' video goes viral
Baltazar's book, The Naked Soldier, describes the cruelty of the Japanese soldiers and how he nearly died after being forced to march while suffering from malaria.
"The temperature alone made the walk torture," he wrote. "We were all baking in the sun – men, women, as well as children. If by chance, we passed a dirty stream and rushed to quench our thirst, we risked getting killed."
"The Bataan Death March will forever live in history as one of the truly horrific events of the Second World War," he added.
Japan's Foreign Minister Katsuya Okada apologized to the survivors of the death march in 2010: "I offer my deep, heartfelt apology for the inhuman treatment you suffered."
READ MORE: Kerry offers no Hiroshima apologies during 1st-ever visit by US state sec. to bombing memorial
Following his escape, he reportedly fought for the Filipino resistance movement, according to Congressman Ryan Zinke, and after World War II, he became the first Filipino-born officer in the US Air Force.
Working as a special agent for the Office of Special Investigations (OSI), he learned Russian and a number of other languages while studying linguistics at Georgetown University in 1950.
READ MORE: Historic planes on parade over National Mall in WWII commemoration
He was then sent to the Korean War to question refugees and West Germany to gather intelligence on the Soviets in the mid 50s, retiring in 1966 and becoming an inspirational US veteran.