Court rules in favor of Norwegian terrorist Breivik in 'Playstation 2 is torture' trial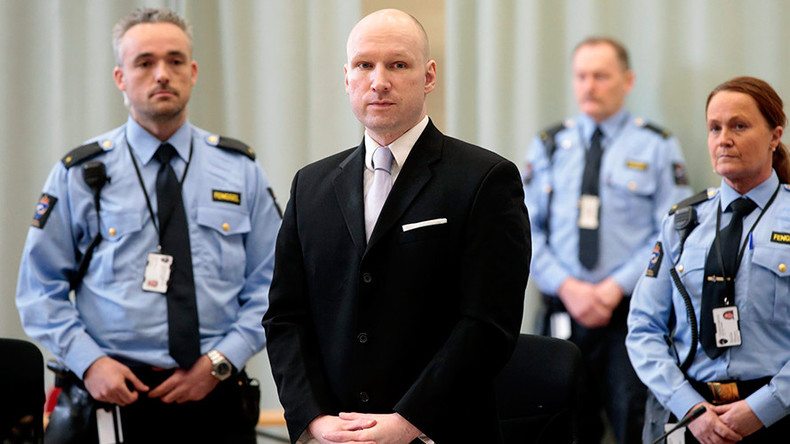 Norwegian terrorist Anders Behring Breivik has won his case against the Norwegian state, asserting that his confinement violates Article 3 of the European Convention on Human Rights.
The Oslo court ruled that Breivik was being kept in "inhuman or degrading" conditions and the Scandinavian government will now have to pay Breivik's court costs of 330,000 crowns ($13,900).
"The prohibition of inhuman and degrading treatment represents a fundamental value in a democratic society," judge Helen Andenaes Sekulic said in her ruling. "This applies no matter what – also in the treatment of terrorists and killers."

The court did rule against Breivik, however, on his motion that his right to a private and family life had been violated. Breivik's lawyer has said this aspect of the ruling will not be appealed.
The Oslo native killed 77 people in twin attacks on July 22, 2011. He first detonated a car bomb in the capital city, claiming eight lives, and then went to a Workers Youth League summer camp on Utoya Island where he shot 69 people dead, mostly young and left wing.
Breivik claims he brought this lawsuit because his forced separation from other prisoners and controlled access to visitors and correspondence is having a negative effect on his health.
Doctors and psychiatrists have dismissed his claims of deteriorating health in his confinement, seeing no major change in his condition.
Authorities insisted his isolation was due to his extreme danger and as a measure to prevent any new attacks, although the conditions are still much better than how the US and other countries treat the terrorists they imprison.
The trial, which was held in the Skien prison gym, revealed that Breivik has three cells to himself - one for living, one for studying, and one for exercise - and they are filled with amenities such as a TV, DVD player, the torturously-old Playstation 2 console, a typewriter, books, and newspapers.
READ MORE: Human 'Call of Duty' video shocks internet with its stark realism (VIDEO)
Breivik's lawyer Øystein Storrvik said Wednesday's verdict is hugely important since his client will likely spend the rest of his life behind bars, assuming his Nazi Party doesn't regain power in Europe and let him out.
The 37 year old is currently serving a 21-year sentence, which can be extended if he is still considered dangerous. The mass murderer claimed during this new trial that he is now a Nazi who has renounced violence and compared himself to Nelson Mandela.