Latvian doctor subjects special-needs patient to 'language test instead of treatment'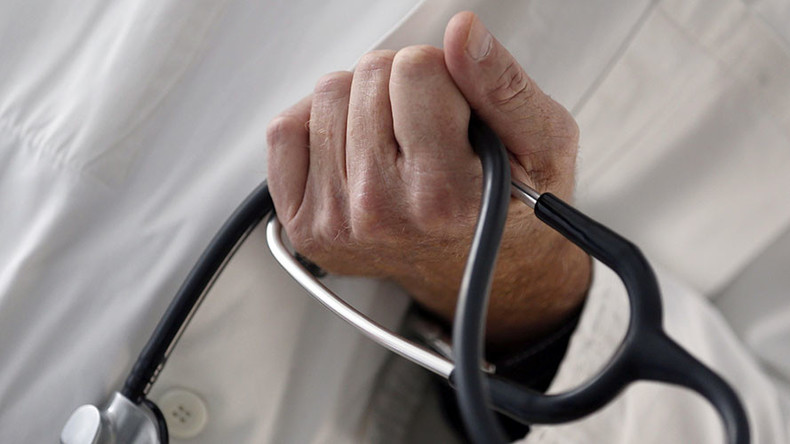 A Latvian doctor is accused of harassing a minor Russian patient instead of examining her. He reportedly berated the girl, who has a serious neurological condition, for not speaking Latvian well, suggesting she 'use Google translate' to understand him.
The incident happened at the Children's Clinic and Teaching Hospital (BKUS) in the capital, Riga, one of Latvia's largest pediatric facilities. The girl's mother, Diana Skaburska-Zakroja expressed her outrage in a Facebook post on Sunday.
She said her daughter told the doctor, Guntis Rozentals, that she would prefer to speak in Russian, which irritated him. Latvia is a former Soviet republic and has a large Russian-speaking minority, with about 37 percent of the people considering Russian their primary language. For some of them, like small children in Russian families, Russian is the only language they can speak well.
However Latvian is legally the only official language in the country. Passing a language test is required in order to receive full citizenship. Hundreds of thousands of ethnic Russians living in Latvia remain non-citizens, ineligible to vote or take public office. The language issue is a constant source of tension between Latvian nationalists and Russian-speakers, considered 'occupiers' or 'descendants of occupiers' by the former.
According to the post, the doctor harassed Skaburska-Zakroja's daughter, saying she must be really bad at school if she can't speak Latvian. When she failed to understand one of his phrases, Rozentals said that at home she could use Google's automatic translation service, she said. He allegedly finished his lecturing by advising that the girl "go to her Russia."
"My daughter's health is not really good, she has a disability and her nervous system is affected. We came to get help and relief, and took our daughter back with another mental breakdown," wrote Diana.
She was reporting the incident from her daughter's words. The allegations cannot be confirmed independently, a fact that was pointed out by the hospital after an investigation. Rozentals confirmed to his management that he asked the girl about her school grades, but said that her description was emotional and blown out of proportion.
The hospital said that its doctors' instructions are to treat children, not to educate them, Latvian news website Delfi.lv said, citing spokesperson Dace Preissa.
"The doctor must ensure that his patient understands him. If he sees communication problems, he should report how the visit went to the parents," she said.
The hospital said it was not going to pursue any administrative action against Rozentals.
Delfi added that there were several complaints about Rozentals' alleged unprofessional behavior on a Latvian website collecting negative feedback about various local goods and services.
Controversies over Latvian doctors refusing to speak Russian with their patients over nationalistic reasons happen quite regularly. One such conflict in 2010 was prominent enough to draw comments from then-President Valdis Zatlers, who criticized a nationalistic-minded doctor for rejecting patients who wouldn't speak Latvian and whom the doctor branded "Russian chauvinists."
You can share this story on social media: