No oil production freeze agreement after talks break down in Qatar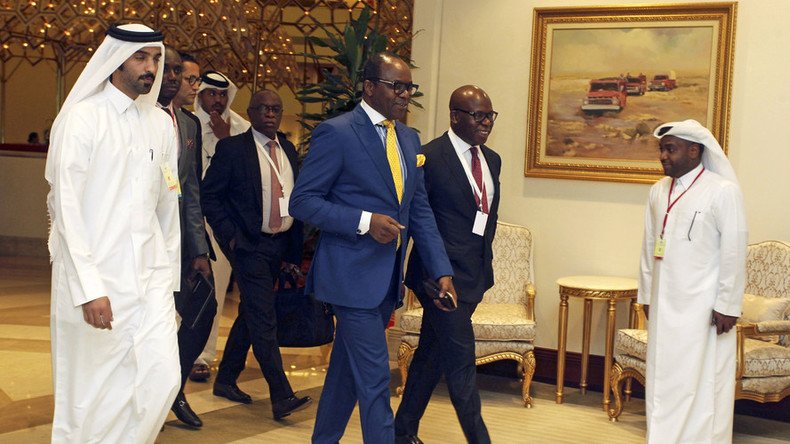 Despite crisis talks in Qatari capital Doha stretching late into the late, OPEC and non-OPEC oil producers have failed to agree on a cap that would prop up oil prices, which have been collapsing over the past year.
At the final press conference on Sunday evening, Qatar's energy and industry minister, Mohammed bin Saleh al-Sada, said countries at the talks would "need more time" for consultations, before attempting to make a deal, likely at the next scheduled talks in June.
Sources told Reuters that members of the Middle East-dominated OPEC plan to negotiate among themselves, before presenting a more united position to those outside the group.
The 18 countries that gathered in Doha, which included Russia and Saudi Arabia, represent nearly three quarters of the world's oil output. According to a leaked draft of a final agreement, the signees would agree to cap production at January 2016 levels.
But the talks hit a last minute hitch, when Saudi Arabia demanded that regional rival Iran also freeze its own output. Iran, which had planned to send a delegation to the meeting, before pulling out at the last moment, says it has no intentions of curtailing production, after suffering years of recently-lifted EU and US nuclear sanctions.
"We respect Iran's position, and will continue negotiations," said bin Saleh al-Sada.
"Some OPEC countries decided to change their terms at the last moment, trying to get concessions from countries that are not here. We were insisting on trying to concentrate on the countries which are," said Russia's energy minister Alexander Novak. "We were expecting more, and we were expecting a deal, rather than heated discussions. But we believe the door remains open."
Earlier this year oil prices fell to a 13-year low of $30 per barrel, prompted by rising production and stuttering BRICS economies. Since then, they have recovered to about $45 per barrel, but most analysts predict a steep fall on the back of the latest impasse.
You can share this story on social media: