'Erratic & aggressive': Pentagon protests Russian interception of US spy plane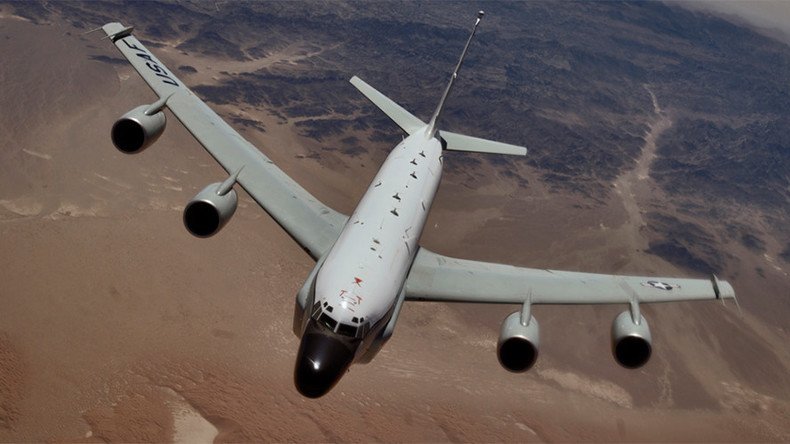 A Russian jet has intercepted a US reconnaissance plane in the Baltic Sea, the Pentagon has said only a few days after it decried Moscow for its military aircraft buzzing a US destroyer in the same area.
The alleged "interception" occurred on Thursday, Danny Hernandez, a spokesman for European Command told CNN. He said the Russian Su-27 "performed erratic and aggressive maneuvers," only 50 feet (15 meters) away from the US aircraft.
The US Boeing RC-135 aircraft was "intercepted by a Russian SU-27 in an unsafe and unprofessional manner," Hernandez said, stressing that the US jet never entered Russian airspace.
"The unsafe and unprofessional actions of a single pilot have the potential to unnecessarily escalated tensions between countries," he said.
The Pentagon later confirmed the complaints to TASS.
"We are protesting the incident with the Russian government," a Pentagon official told the news agency.
The Russian Defense Ministry denied the accusations, saying the Pentagon's assessment was inaccurate.
"On April 14, air defense forces detected over the Baltic ocean an unidentified aerial target rapidity approaching the Russian border. An Su-27 fighter jet was deployed by the Baltic Fleet to identify the target," said ministry spokesman Maj. Gen. Igor Konashenkov.
"The flight of the Russian plane was in accordance with international standards for the use of airspace. No emergency situation occurred."
A similar incident involving a US RC-135 spy plane and a Russian interceptor was reported in January over the Black Sea. At that time the Pentagon also complained that the Russian jet acted in an "unsafe and unprofessional manner."
On April 14, Washington said that a Russian SU-24 and a Ka-27 Helix helicopter flew over the USS Donald Cook, a Navy destroyer that was conducting exercises with its NATO ally Poland in the Baltic Sea. The US called the encounter "aggressive flight maneuvers ...within close proximity of the ship."
US Secretary of State John Kerry dubbed the behavior of the Su-24 pilots as "reckless" and "provocative," saying that the US had every right to shoot down the plane.
The Russian Defense Ministry said that the plane was flying over neutral waters and all the international regulations on the use of the neutral airspace had been met.
"While in operational proximity to the Russian naval base of the Baltic Fleet, the principle of freedom of navigation of the US destroyer does not negate the principle of freedom of aeronautics of the Russian aircraft," Russian Defense Ministry spokesman Major General Igor Konashenkov said on Thursday, as cited by TASS.
READ MORE: Pentagon complains of 'unsafe maneuver' by Chinese jet shadowing US spy plane
Another foreign nation the Pentagon regularly blames for acting unprofessionally while intercepting American warplanes and warships deployed on missions close to its territory is China.
You can share this story on social media: