238 killed, national guard mobilised in Ecuador after powerful 7.8 quake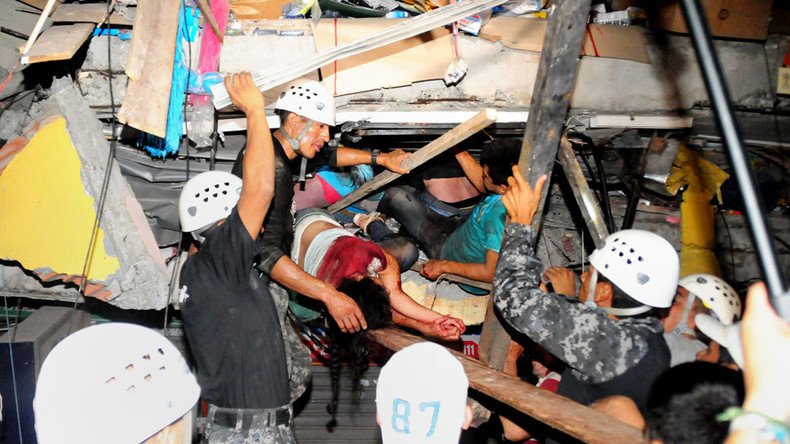 A strong 7.8 earthquake has struck Ecuador's coastline, killing at least 77 people and causing widespread destruction in the vicinity of the epicenter. The Pacific Tsunami Warning Center said that the tsunami threat from the quake has now "mostly passed."
LIVE UPDATES: 'Considerable damage' in Ecuador following 7.8 quake
Initially reported as 7.4 by USGS, the earthquake was centered at a shallow depth of 10 km (6 miles) some 107 miles (173 km) west northwest of the capital Quito.
Some 10 minutes prior to the 7.8 jolt, the same area was hit by a 4.8 magnitude quake. The Ecuadorian Civilian Space Agency (EXA) warned that powerful aftershocks are possible for the next 24 hours.
"Hazardous tsunami waves from this earthquake are possible within 300 km of the epicenter along the coasts of Ecuador and Colombia," PTWC said after the quake struck. Several hours later the agency announced that "the tsunami threat from this earthquake has now mostly passed."
At least 238 people have been killed and over 1,500 injured in Ecuador as a result of the quake, according to the country's Vice-President, Jorge Glas. The quake caused some significant damage across Ecuador.
Emergency services reported that people were trapped underneath the rubble of a "collapsed structure" in the coastal city of Guayaquil. Guayaquil is the largest and the most populous city in Ecuador, with around 2.69 million people in the metropolitan area.
Photos shared by witnesses showed a collapsed highway. The emergency services confirmed a partial bridge collapse and rescuers were dispatched to the scene.
Strong shaking was felt in the Ecuadorean capital of Quito for some 40 seconds, according to AP, with people fleeing buildings in panic. Some parts of Quito were temporarily left without power and telephone services, with residents using messaging apps for communication. Quito airport was evacuated over security concerns.
You can share this story on social media: