Nothing political about Bernie Sanders meeting, mental to suggest otherwise – Pope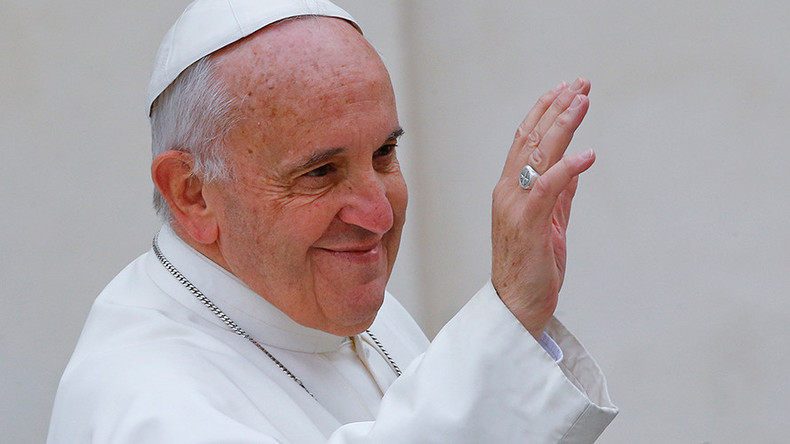 Pope Francis met with Democratic Presidential candidate, Bernie Sanders, in the Vatican on Saturday, saying it was not an attempt to interfere with US politics and that suggesting otherwise would be just crazy.
The head of the Catholic Church and the Vermont Senator had a brief chat in aVatican guest house where Sanders was staying for the night after giving a speech at a Vatican conference on social justice.
The journalists asked the Pope about the meeting aboard the plane returning from the Greek island of Lesbos where the Pontific visited a refugee camp.
"When I came down, I greeted him. I shook his hand and nothing more. This is called good manners and it is not getting involved in politics," Pope Francis said, as cited by Reuters.
"If anyone thinks that greeting someone is getting involved in politics, I recommend that he look for a psychiatrist," he laughed.
Sanders also recalled at his Vatican meeting in an interview with ABC, saying that he called the Pope "a beautiful man."
"I just conveyed to him my admiration for the extraordinary work he is doing raising some of the most important issues facing our planet and the billions of people on the planet and injecting the need for morality in the global economy," he said.
"I am not a Catholic, but there is a radiance that comes from him," Sanders, who is the son of Polish Jewish immigrants, added.
READ MORE: Sanders slams 'immoral' capitalist wealth, fossil fuel barons during Vatican visit
Despite publicly denying it, Pope Francis is often viewed as a leftist for his calls for wealth redistribution, his more liberal stance on family values and homosexuality and sounding the alarm over climate change.
Sanders has also been labeled "extreme left" by his rivals for pursuing policies similar to social democratic parties in northern Europe, criticizing US military incursions into other countries, speaking out against mass surveillance and other issues.