Terror ride: Taxi driver ISIS recruiter detained in Moscow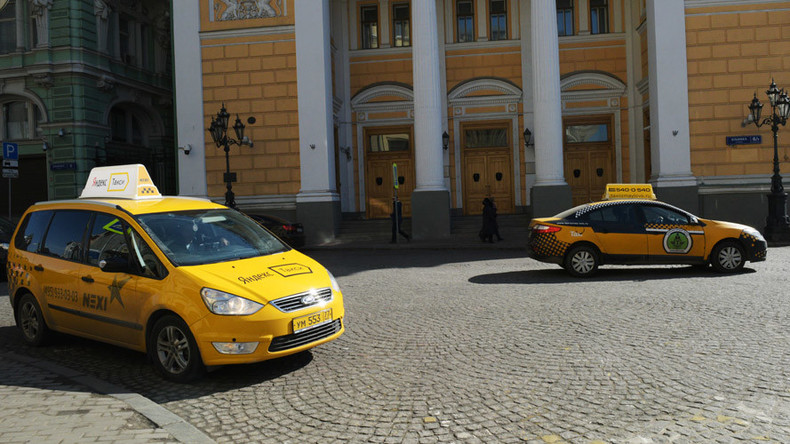 A taxi driver and recruiter of fighters for Islamic State has been arrested during a special operation in Moscow, the Russian interior minister said, adding that the suspect was on an international wanted list.
The man was detained during a special operation codenamed "Taxi", which took place in the Russian capital between April 5 -13, Interior Minister Vladimir Kolokoltsev told the Rossiya 1 broadcaster on Saturday.
"A total of 173,000 taxi drivers have been checked ... One of them was on the international wanted list for terrorist activities - he recruited ISIS supporters as fighters," he said.
More than 40 percent of Moscow taxi drivers turned out to be foreigners from neighboring countries, according to Kolokoltsev.
"Among them at least 902 people had been earlier charged with criminal offenses," he said, adding that 14 had been detained for murder. Some had been arrested on charges of rape and kidnap.
Islamic State (IS, formerly ISIS/ISIL) allocates huge resources to recruitment campaigns worldwide, mostly focusing on disenfranchised youths willing to sacrifice their lives for jihadist ideology.
Besides their social media outreach, the terrorists use popular messenger services, operate in Muslim communities and religious centers as well as recruiting through family and friends.
A complex network helps recruits organize travel from international destinations to Syria, usually via Turkey. Besides fighters, Islamic State actively recruits women willing to marry militants.
Earlier in April, Russia's Federal Security Service (FSB) detained IS members, who had allegedly been recruiting fighters and planning a terror attack in the southern Volgograd region. Five suspects were detained by the FSB, with the assistance of the local police, in the town of Pallasovsk in the Volgograd region, the security agency said.