Teen survives after falling from 14-story building in southern Russia (VIDEO)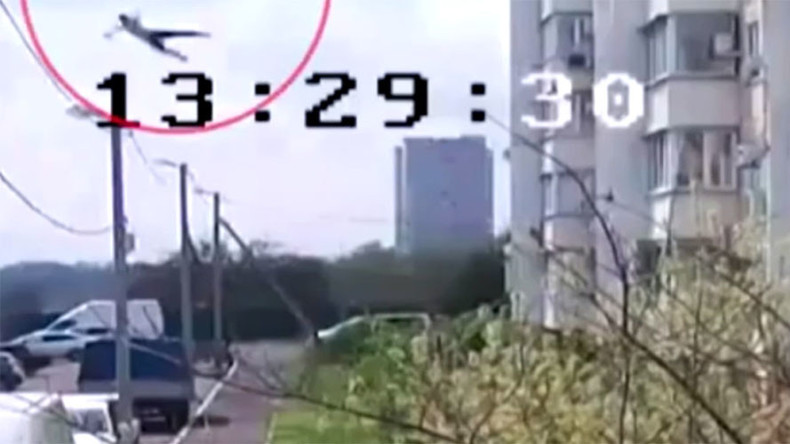 Perhaps blessed with a guardian angel, a teenage boy has survived jumping from a 14-story building in southern Russian city Krasnodar. Before the fall, the 15-year-old tried to slash his wrists.
The reason could have been upsetting his family the day before: Ilya came home drunk, his parents say.
"This was the first time we've seen him in such a state. We didn't punish or beat him. Just had an awareness-raising conversation. On Monday, we made peace, and said goodbye in a normal way. I reminded him to take an umbrella," the teenager's father Ravil told Russian LifeNews media outlet.
However, things turned sour on Monday: Ilya came home earlier from school, as CCTV cameras showed.
"Ilya could have gone to the common balcony of the 14-story building, climbed on to the roof, and tried to slit his wrists there. There are fresh cuts on his hands," said his mother, Natalya.
Apparently the boy then jumped from the roof.
After his fall, shocked passers-by ran up to him and asked what had happened.
"I wanted this myself," the teenager answered, barely able to say anything.
Two things saved the teenager's life: he caught hold of an electric power line, and he landed on a car, not on the asphalt.
Doctors believe the event could be called a miracle.
"You could say he escaped with life and limb. The lad has a broken thigh, and a closed craniocerebral injury. Medics put him in an induced coma and reconstructed his thigh. Now he's out of the coma and on artificial respiration. The most important thing is that neither his brain nor spine are harmed. It means he will completely recover," a source at the local hospital told LifeNews.