Russia Drone Grand Prix: Quadcopter racing tournament kicks off in Moscow (VIDEO)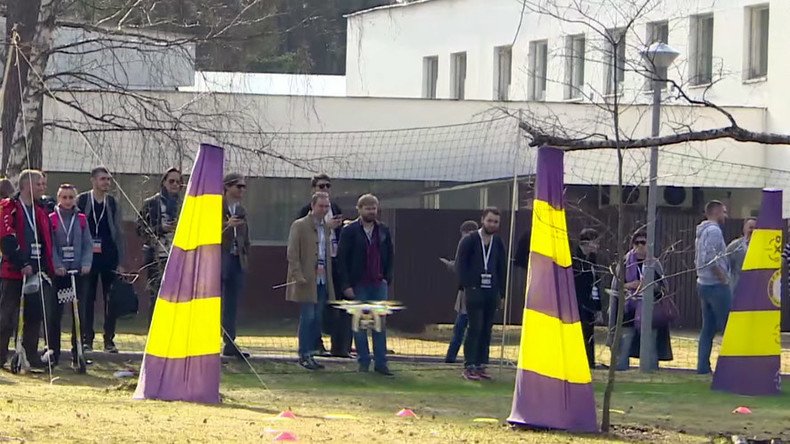 Experienced and amateur drone pilots have tested out their maneuvering skills using remotely controlled quadcopters at the Drone Grand Prix 2016 in the Moscow Region. The tournament in which everyone is invited to participate will run until Friday.
On the first day some 20 professional drone-skilled operators showcased their moves in the likes of Anakin Skywalker, the master pilot in the Star Wars series, when they ditched countless obstacles while completing the specially designed flying route.
The pilots had to use their panther-like reactionary skills around an outdoor track using video goggles that transmitted video from cameras mounted on their drones to steer through a series of hoops and trees placed around the track, at speeds that sometimes reached over 100 kph.
All drones that take part in the competition have similar batteries and air frames to ensure fairly competitive races. They must be operated using remote controls, rather than autonomously on pre-programmed routes.
The Russian tournament features similar rules as those found in the first World Drone Prix which was held in Dubai in March. According to one drone pilot Vladimir Meshcheriakov, Russians are highly skilled pilots, and have taken the third place during the competition in Dubai.
"I saw a drones' race on YouTube once and I really wanted to do it too, so I assembled my own quadcopter and began to fly," Meshcheriakov told Ruptly. "This is the first championship in Russia this year. The world championship was held on March 12 in Dubai, and we participated in it, and came in third place."
Organizers say that they want to turn drone piloting into a sport, and have arranged anyone who are interested in drones to take part in the Grand Prix on Thursday and Friday. They will get the opportunity to show their skills and the most successful participants will win a quadcopter.
"We want to show that this is a real sport, which gives the opportunity to compete", Vladlen Sitnikov, who organized the Grand Prix told Ruptly. "We want to hold such events as quickly as possible and more often. We want to show that it's not just the easiest way to gain access to the sky, to be able to fly."
You can share this story on social media: