Merkel agreement with Turkish President Erdogan 'real treason' – Marine Le Pen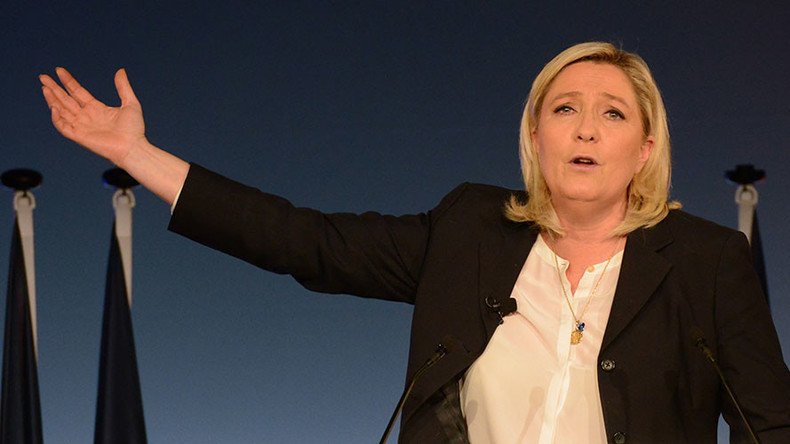 Marine Le Pen, leader of the French National Front party, has called Angela Merkel's talks with Turkey over the migrant deal "real treason," saying Erdogan's government shows "unacceptable leniency" towards Islamic State and "buys oil from terrorists."
Le Pen has described the recent deal with Turkey as "a serious democratic problem."
Last month, EU leaders and Turkey agreed a plan aimed at opening a "safe and legal" route to the EU for Syrian refugees. Under the deal, sealed on March 20, Ankara is to take back all migrants and refugees, including Syrians, who cross the Aegean Sea and enter Greece illegally. In return, the EU will take in thousands of Syrian refugees directly from Turkey, rewarding Ankara with a fast visa-free travel regime, advancement in EU membership talks and - last but not least - more money.
"First of all, Frau Merkel did not possess the necessary powers [to strike the deal]. Secondly, she went against the will of the majority of the people in Europe. She conducted talks with Erdogan on unacceptable conditions, such as the €6-billion subvention, visa-free travel for Turks, and even Turkey's admission to the EU – something that France has been strongly against. This is real treason and betrayal of the people," the far-right National Front (FN) leader said in an exclusive interview with LifeNews.
"France's National Front has long been saying that Erdogan's government shows unacceptable leniency towards Islamic State (IS, formerly ISIS/ISIL). I'm talking about Turkey buying oil from terrorists. We strongly resist Turkey's integration with the EU, and we insist on respect for freedom of choice, and the French people's refusal to follow the direction imposed by Frau Merkel," Le Pen said.
"Today Turkey is establishing relations with Islamic fundamentalists. This goes against the interests of our country. Besides, I'm sorry to say it: Turkey is not a European country, neither historically, nor culturally and geographically. This means it has no business being part of the European Union," she added.
Last month, the FN leader described Turkey's request for the EU to provide it with an extra € 3 billion ($3.3 billion) to deal with the refugee crisis as blackmail.
"We have become so weak due to the removing of our [EU] borders that we have given in to Turkey's blackmail," Le Pen told RTL.
Last week, President Erdogan warned that Turkey won't take back Syrian refugees if the EU doesn't fulfill its promises, according to Reuters. It was previously reported that the Turkish president had threatened to flood the European Union with migrants, should Ankara not be offered enough cash to help curb the influx.
The first deportations started in Greece in early April amid repeated warnings by human rights groups that Turkey is "not a safe third country for refugees."
In December, the Russian Defense Ministry released evidence it said unmasks the vast and illegal oil trade by Islamic State. It points to Turkey as the main destination for the smuggled oil, implying Ankara's leadership in aiding the terrorists. However, the ministry said that since the start of Russia's anti-terrorist operation in Syria on September 30, Islamic State's income from oil smuggling has been significantly reduced. Erdogan has denied that Turkey procures oil from anything other than legitimate sources.
Le Pen has praised the Russian military mission in Syria, saying: "It's a relief for us to see Islamic State retreat, and how Russia has succeeded where the EU has totally failed."
"Russia's presence in Syria has helped Europe a lot. Of course, our minister of foreign affairs has appropriated the success of airstrikes against Islamic State targets. In reality, the merit is due solely to the Russian troops," she told LifeNews.
Le Pen said she had long been calling on France to restore diplomatic relations with Syria. "Despite harsh criticism of Bashar Assad's government, it is the lesser evil in comparison with ISIS. We need to stabilize Syria, to strengthen through diplomacy the government system, which currently appears to be in ruins, with all the power in IS' hands. We need to maintain high-level relations between the Syrian and French intelligence services. This will help us prevent terrorist acts in France."
READ MORE: Russia presents proof of Turkey's role in ISIS oil trade
You can share this story on social media: