Earthquake up to 7.2 hits Myanmar-India border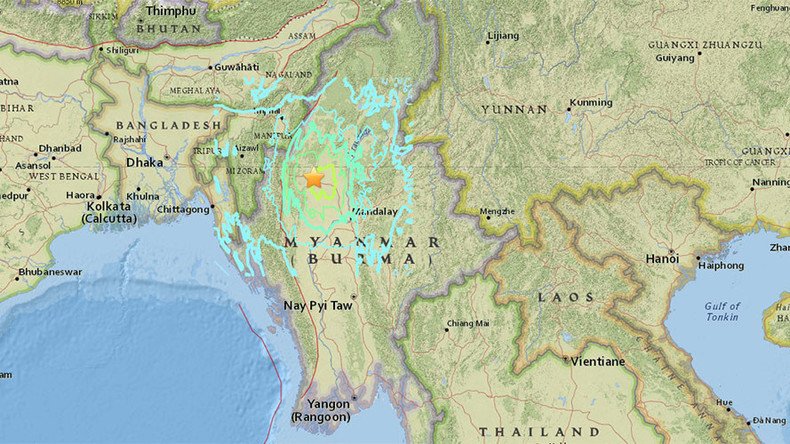 An earthquake of up to 7.2 in magnitude was detected at the Myanmar-India border region on Wednesday.
According to GEOFON Global Seismic Network, the tremor was estimated at 7.2, while the United States Geological Survey (USGS) reported a 6.9 earthquake in the area.
The quake's epicenter was some 100km (62 miles) from the city of Monywa in Myanmar, according to USGS.
Earthquake in Kolkata!! a big one

— ahom_tez (@Gogoi_AM) April 13, 2016
A witness cited by Reuters reported strong tremors in the eastern Indian city of Guwahati.
Tremors were also reportedly felt as far away as India's former capital, Kolkata.
Buildings have been evacuated in Kolkata.
Sirens could be heard blowing on some streets in the former capital, with people sounding alarm to alert residents of high-rise buildings, India's NDTV reported, citing eyewitnesses.
There was no danger of a tsunami, NDTV said. But people have come out into the streets, fearing an aftershock, it added.
Crazy scenes in Eden Gardens. All of us felt tremors in the Press box, evacuated and then returned. Earthquake?

— Karthik Lakshmanan (@lk_karthik) April 13, 2016
Just a couple of days ago, people in the region were panicked by a strong earthquake, which struck Afghanistan and was also felt in India, Pakistan and Tajikistan. Some buildings have been evacuated in the Indian capital of New Delhi and its metro service has been suspended, according to reports on social media.
You can share this story on social media: