Panic as powerful earthquake jolts Afghanistan, tremors felt as far as New Delhi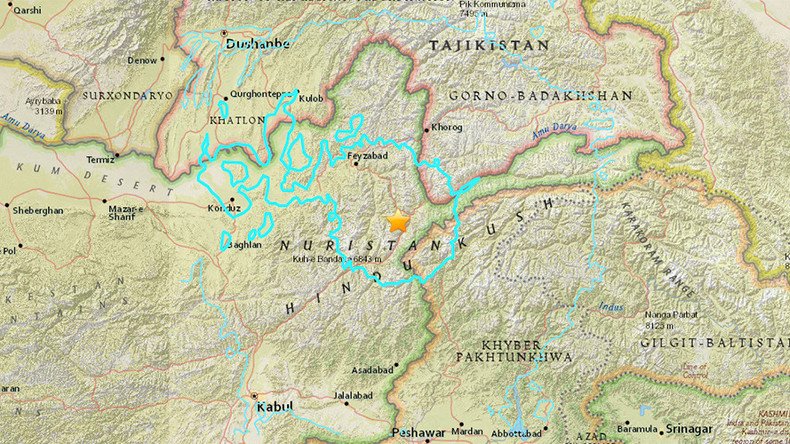 An earthquake has struck Afghanistan, according to seismological centers and witnesses. The quake is said to have been felt in India, Pakistan and Tajikistan, and was initially measured as magnitude 7.1, although the US Geological Survey later put it at 6.6.
The quake had a depth of 210km and took pace 39km from the town of Ashkasham, Afghanistan, the USGS reported. The China Earthquake Networks Center first measured it at 7.3 magnitude, with various centers then putting the magnitude anywhere between that and the USGS' measurement of 6.6.
At least 2 people were killed and 10 injured in Pakistan as a result of the quake, according to Xinhua.
The earthquake shook houses in the Afghan capital, Kabul, witnesses told Reuters.
Reports on Twitter say several buildings were evacuated in New Delhi. The metro service was also halted.
"Earthquake!!!! It was really scary! I could see plants and furniture shaking at 6th floor office of Delhi secretariat. Wish all is well," tweeted Delhi Deputy Chief Minister Manish Sisodia.
Besides the capital, the quake was felt across north India, including National Capital Region, Kashmir and Uttarakhand, according to local press.
In Islamabad, Pakistan, terrified residents fled their homes and offices as buildings swayed, AP reports. Television footage showed people praying in public.
Strong tremors were felt across the cities of Peshawar, Chitral, Swat, Gilgit, Faisalabad and Lahore, Radio Pakistan reported.
The Himalaya region, which includes northern Afghanistan, is one of the most seismically-active regions on Earth. The area is located where the India and Eurasia plates collide.
In December 2015, scores were injured in a powerful 6.3-magnitude earthquake that hit the Afghanistan-Tajikistan border region.
In October 2015, more than 270 people were killed and hundreds more were injured in a 7.5-magnitude earthquake, which struck northern Afghanistan, Pakistan and India. Massive tremors jolted New Delhi, Islamabad and several other major cities.
You can share this story on social media: