Russian sappers defuse 3,000 bombs in Palmyra in 12 days - Defense Ministry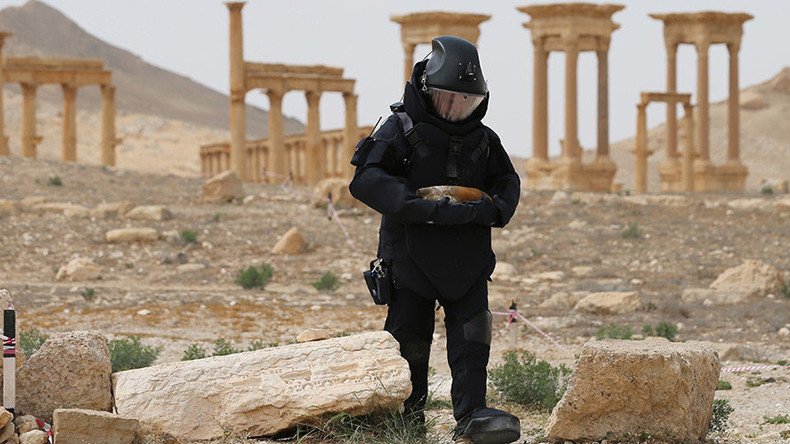 Russian engineers have cleared around 180 hectares (about two square kilometers) in the ancient city of Palmyra, defusing some 3,000 bombs, the Russian Defense Ministry reported on Tuesday.
"Beginning April 1, over 30 kilometers of roads and more than 182 hectares of land have been demined; 2,987 explosive objects have been unearthed," Russian Defense Minister Sergey Shoigu said at a teleconference at the National Defense Control Center.
The minister said engineers deployed to Palmyra are from the Russian Army's International Antimine Center.
"Personnel conduct reconnaissance and explosives clearance using high-tech robotic tools," Shoigu said.
Russia's armed forces have deployed a field hospital to Palmyra, the minister said.
"It's fitted out with the most advanced medical equipment to operate autonomously for 30 days. If necessary, both the Syrian military and local citizens returning back home can address to that medical installation," Shoigu said.
Syrian forces supported by the Russian Air Force ousted IS terrorists from Palmyra on March 27, an achievement not only considered a strategic win, but also a symbolic victory.
The city had been under IS control for more than 10 months, during which the terrorists destroyed a number of unique ancient monuments, including the Arch of Triumph and the iconic 2,000-year-old Bel Temple. The City of Palms has been left partly devastated and ridden with explosive devices.
You can share this story on social media: