Rousseff supporters confront MPs after Brazil congressional committee 'recommends' impeachment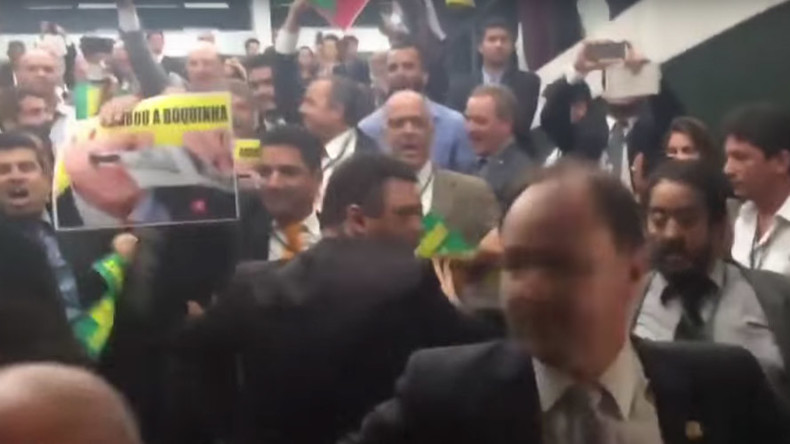 A Brazilian Special Parliamentary Committee has voted to recommend the impeachment of President Dilma Rousseff in a move that was slammed as an attempted coup by her supporters. They rejected accusations of alleged budget manipulation during her re-election campaign.
The 65-member congressional committee voted 38 to 27 to recommend her impeachment, paving the way for the possible dismissal of the Brazilian president.
Read more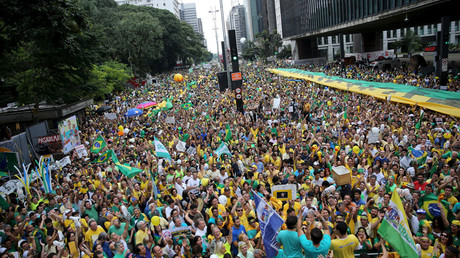 The lower house of Brazil's Congress is now expected to vote April 17 on whether to impeach Rousseff. At least 342 of the 513 members of the body need to vote for impeachment for the measure to move to the Senate. If half the Senate votes for impeachment, Rousseff would be temporarily suspended from office pending a Senate trial.
If the impeachment charges stand ground, the 69-year-old who took up the presidential seat in 2011, will be the first to be impeached since 1992. More than two decades ago Fernando Collor de Mello resigned right before a Senate conviction prompted by corruption charges.
After receiving the news of the commission's vote, Rousseff was "perplexed and saddened" by the result, presidential chief of staff Jaques Wagner announced.
Rousseff is suspected of having broken fiscal laws by shifting government funds ahead of her re-election campaign in 2014, which allegedly allowed her to boost public spending to drive her votes. Rousseff denies the accusations, claiming that she didn't do anything that was not common practice in all prior administrations. Furthermore, she argues that she has not been accused of a crime which could serve as basis for any impeachment.
Monday's vote took place amid ongoing protests from both supporters and opponents of President Rousseff. Supporters of the president were quick to confront congressional committee members after the vote. Shouting "putschists", "fascists" and "no pasaran" (they shall not pass) at the congressmen, they prevented the MPs from leaving the building.
Security forces even built an 80-meter-long metal barricade in front of the congressional building to keep supporters and opponents of the government apart. Brazilian security forces also deployed thousands of troops in the capital city of Brasilia.
As Brazilian society remains split over idea of Rousseff's impeachment, local newspaper Folha de S. Paulo leaked an audio recording of Vice President Michel Temer rehearsing and address to the Brazilian people if the impeachment process were to move forward. In the leaked speech, Temer speaking as the new president says that Brazil needs a "government of national salvation" to save the country from recession as he called for unity in the political system.
Reacting to the recording, Temer said the 13-minute audio message was recorded for a friend, but was distributed through WhatsApp to other party members "by accident."