Israel launched Syria strikes to prevent Hezbollah from obtaining weapons – Netanyahu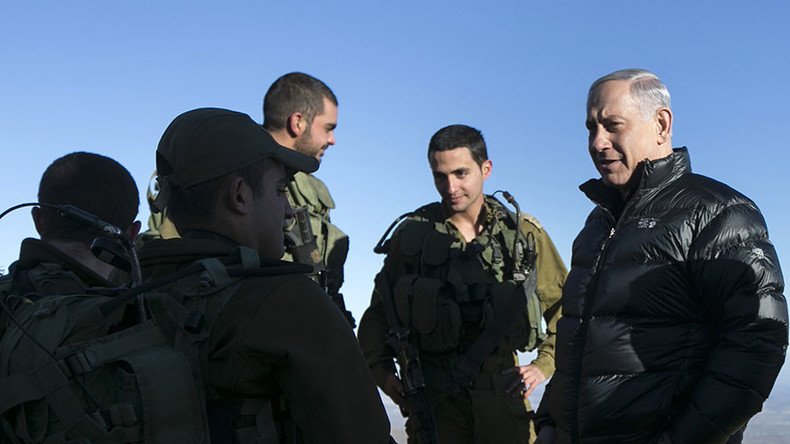 Israel has launched dozens of strikes in Syria, Prime Minister Benjamin Netanyahu has announced. It marks the first time that the leader has acknowledged such attacks against arms transfers to Lebanon's Hezbollah.
"We act when we need to act, including here across the border, with dozens of strikes meant to prevent Hezbollah from obtaining game-changing weaponry," Netanyahu said while on a visit to the occupied Golan Heights on Monday, as quoted by Reuters.
The prime minister failed to specify what kind of strikes Israel had conducted in Syria.
Although Israel welcomed a cessation of hostilities in Syria in February, it has indicated that it could still launch attacks there if it sees a threat from the Iranian-backed Hezbollah, whose fighters have been allied with Syrian President Bashar Assad.
Israel is officially neutral on Syria's civil war, but has frequently pledged to prevent shipments of advanced weaponry to Hezbollah, which is based in Lebanon. It has, however, stopped short of confirming specific air operations.
Tel Aviv last fought a war with Hezbollah in 2006. That conflict included rocket strikes inside Israel and an Israeli air and ground offensive in Lebanon.
Israeli leaders have stated that since then, Hezbollah has built up and improved the range of rocket arsenal that can now strike deep inside Israel.
Tension has been mounting between Tel Aviv and Hezbollah in recent months, with Hezbollah leader Hassan Nasrallah threatening to hit Israeli chemical and nuclear sites.
Netanyahu's Monday comments come less than one week after intelligence firm Stratfor revealed satellite images of an area on the northern Lebanese-Syrian border which indicate that Hezbollah has been consolidating positions it gained from Syrian rebels in June 2013.
However, Netanyahu noted that Hezbollah isn't the only worry facing Israel, citing threats from Islamic State (IS, formerly ISIS/ISIL), Hamas, and Islamic Jihad, as well as jihadists in Sinai.
He went on to state that "going into battle" is a "possibility that lies ahead," adding that no one else will defend Israel.
You can share this story on social media: