Refugees use train carriage to smash police barricade on Greece-Macedonia border (VIDEO)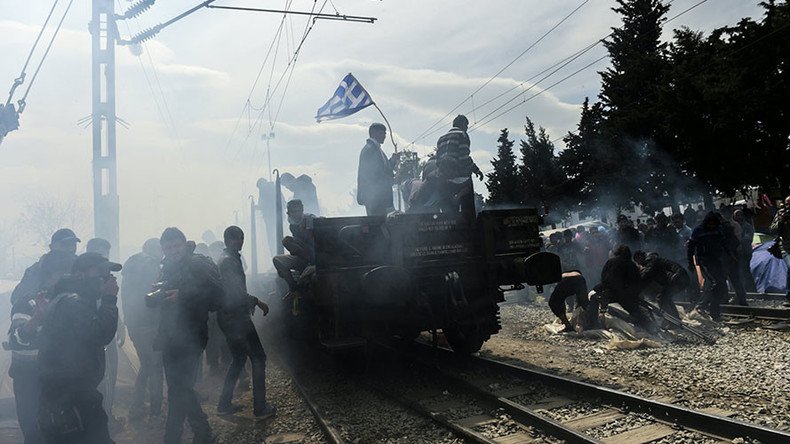 As tensions at the Greek-Macedonian border continue to mount, a group of refugees has hijacked a train carriage at Idomeni station and attempted to use it to break through the police barricade.
Several hundred refugees pushed the wagon towards the border with their bare hands, having filled the carriage with rocks intended to be used as weapons against the police.
They were stopped by the Greek police, who eventually managed to persuade the crowd to move the train carriage to its original position.
Members of the group told RT's Ruptly video agency that the seizing of the wagon was retaliation for brutal behavior by police guarding the border.
"Yesterday they oppressed us, hit us with tear gas, rubber bullets, five caliber. They detained 10 of our friends, took them, beat them up, they even broke some bones," a young man, who covered his face with a bandana, said.
Violence broke out on Sunday at Idomeni as Macedonian police used tear gas and rubber bullets to prevent a group of 500 refugees from crossing the barbed-wire fence on the border.
READ MORE: 'Macedonian border police detained & beat protesting refugees' - MSF
Doctors Without Borders (MSF) said they treated over 300 people in the wake of the clashes, among them 200 with respiratory problems caused by teargas.
Two young patients also told MSF that they were taken into Macedonian territory along with 10 other people and beaten for an hour by police.
"Some came with bruises on their bodies and legs, and arms, claiming they have been beaten by the FYROM police inside the border," MSF spokesman Jonas Hagensen told RT. "Others had injuries from rubber bullets. And also others had injuries, while they were running away from the tear gas, they fell over and somebody ran over them… And then, lastly, we referred seven patients to the local hospital with more serious injuries like open wounds and suspected fractures."
While most of those injured were men, the MSF also treated a "high number" of women and children, Hagensen added. "I would say around ten to 15 children under five years old and around 30 children between five and 15."
At least 15 police officers were injured in the clashes, five of them seriously, Balkan Newsbeat reported.
READ MORE: Asylum seekers 'attempt to dismantle fence' at Greek Idomeni camp, get teargassed (PHOTOS, VIDEOS)
Also on monday, a passenger train in which refugees were squatting was set alight during a fight between Kurds and Afghans near Idomeni. Around 200 people took part in the scuffles, using metal bars and stones.
Thousands of refugees on their way to Germany and other Northern European states set up an improvised camp in Idomeni after the Macedonian authorities decided to close the border with Greece.
Earlier in the day, Macedonian President Gjorge Ivanov responded to Greece's accusations of Macedonian police using excessive force against refugees who attempted to break through the border. He said that the Balkan route was shut down by an EU decision and urged Athens to respect it.
"[Macedonian] authorities have taken necessary measures – not taken by Greece – to prevent migrants from infiltrating into [our] territory en masse. I called upon the EU to help Greece evacuate the Idomeni camp where migrants try to make their way into our territory utilizing the corridor [Balkan route] closed under Brussels' decision," he told Greek TV channel Mega.
He also said that the Greek police shared no information on the rising tension in Idomeni. "Instead of delivering demarches, Greece's foreign ministry could update us on everything relating to the so-called volunteers in Idomeni who are behind all of the distributing leaflets in Arabic and preparing illegal border crossings into our territory."
You can share this story on social media: