Hundreds pro-Erdogan & pro-Kurdish demonstrators clash across Germany (VIDEO)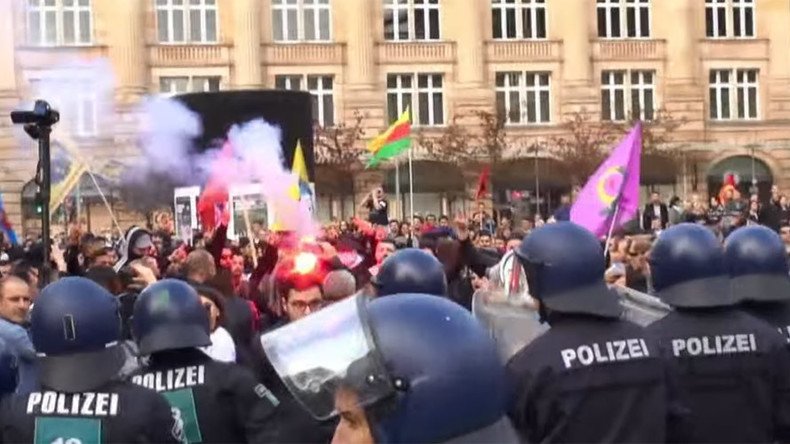 German riot police used pepper spray and batons to subdue violent clashes that broke out as pro-Kurdish activists confronted participants in rallies supporting the Turkish government as they marched through several major cities on Saturday.
Demonstrations were held in Cologne, Nurnberg, Frankfurt, Stuttgart, and several minor German cities in response to the recent terror attacks in Ankara and Istanbul. They were organized under the motto "March of Peace for Turkey and the EU" by "AYTK" (European New Turks Committee). The Kurdistan Freedom Hawks (TAK) and Kurdistan Workers Party's (PKK), a militant splinter group, have claimed responsibility for some of the major terrorist bombings in Turkey that have recently killed dozens.
The activists were waving Turkish national banners as some shouted "Allah Akbar."
Hundreds of Kurds and German left party members staged counter-demonstrations, accusing the anti-PKK protesters of having ties with Turkish President Recep Tayyip Erdogan's nationalist ruling party, AKP, which has been clamping down on Kurdish populations in the southeast of Turkey through military force.
Cologne police detained 24 members of the two opposing groups as they threw firecrackers and bottles at each other and law enforcement, injuring at least five officers, DPA reports. The number of pro-Kurdish activists was estimated at 250, while several hundred demonstrators participated in the pro-Erdogan rally, far short of the announced target of 5,000.
The protests in Stuttgart also took a violent turn, as rocks and firecrackers were hurled at police. Twelve officers and five activists were reported injured in the showdown.
In Hamburg, about 1,250 Kurdish and German activists demonstrated alongside some 200 Turks, Hamburger Abendblatt newspaper reports. The pro-Kurdish counter-demonstrators marched to the Turkish consulate under the slogan "For Tolerance and International Anti-fascism" to protest the "fascism" towards Kurds shown by Erdogan's government.
READ MORE: German embassy, consulate close in Turkey over terror threat

Some 2,500 people heeded a call from AYTK to gather at Jakobplatz square in Nurnberg, while the number of counter-demonstrators amounted to 300. As local police succeeded in separating the rival crowds, no major incidents were reported, according to BR24 news site.
Heavy police presence ensured the peaceful nature of the rallies held in Munich, Hannover, Bremen, and Bielefeld.
PKK, which is banned in Turkey, has about 14,000 supporters in Germany, according to Der Tagesspiegel.
You can share this story on social media: