Syria prepares op to liberate Aleppo, Russia to assist – agencies cite PM Halaki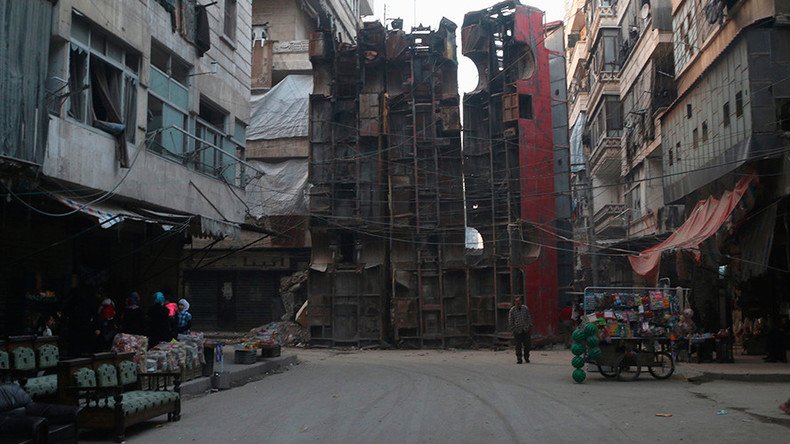 After liberating Palmyra from terrorist group Islamic State (IS, formerly ISIS/ISIL), Syrian forces are now preparing a similar operation for the country's second-largest city, Aleppo, Russian agencies reported citing Syrian PM Wael Nader Halaki.
READ MORE: Russians continue to clear ISIS mines in Palmyra, as locals return (PHOTOS)
"We, together with our Russian partners, are preparing for an operation to liberate Aleppo and to block all illegal armed groups which have not joined or [which have] broken the ceasefire deal," Wael Halaki said Sunday, as cited by TASS and Interfax.
Halaki added that Deir ez-Zor would be the next major target for Damascus after taking control of Aleppo.
He was speaking as a parliamentary delegation from Russia visited Syria on Sunday.
Russia's Defense Ministry has not commented on the report.
The Syrian Army, supported by Russian warplanes, liberated Palmyra last month in a three-week operation. The city is strategically located in central Syria and its capture opened a window of opportunity to further advance to Deir ez-Zor in the east.
However, the situation in Aleppo, which is currently being contested by several rival factions, has recently been aggravated. This week terrorist group Jaysh al-Islam used chemical weapons to attack Kurdish YPG forces, which control one of the city's neighborhoods.
READ MORE: Syrian Islamist group Jaysh al-Islam admits using banned weapons against Kurds in Aleppo
Aleppo is located in northwest Syria, close to the Turkish border, and before the war it was an economic powerhouse of Syria.
You can share this story on social media: