At least 2 blasts reported in Kabul's diplomatic area after Kerry visit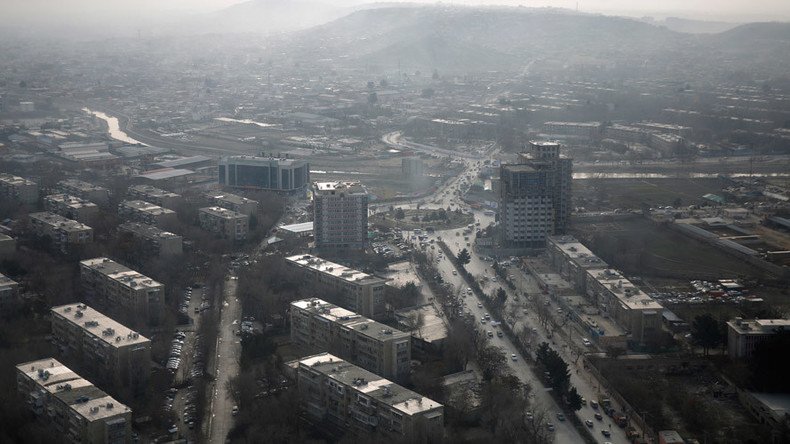 At least two explosions were reported in the diplomatic quarter of Kabul on Saturday shortly following an unannounced visit by US Secretary of State John Kerry.
According to Reuters, gunshots were also heard, but it was not immediately clear what caused the blasts.
Preliminary reports from TOLO News, a local news outlet, say that three rockets were launched from inside Kabul which landed in the PD2 and PD10 areas.
Police have confirmed that one of the rockets landed inside a building close to the US embassy and CIA compound in Kabul, while another reportedly struck the area near the presidential palace, according to Al Jazeera.
Although some local experts have connected the attack with the Taliban, no one has claimed responsibility so far.
No casualties have been reported
Local journalists reported that one of the rockets hit Durani High School, leaving no casualties, while another landed near the presidential palace and Ariana Hotel.
Both buildings are located in one of the most heavily secured areas of the Afghan capital, which also hosts the US Embassy and the HQ of the NATO-led International Security Assistance Force (ISAF).
Kerry arrived in Kabul for an unannounced visit on Saturday in an effort to demonstrate support for the national unity government and to discuss security and development in the country.
The rocket attacks took place shortly after Kerry had wrapped up his visit, when his plane was preparing to take off from Bagram airport outside Kabul, according to Reuters.
Kerry met with President Ashraf Ghani, Chief Executive Abdullah Abdullah, and Foreign Minister Salahuddin Rabbani. Saying that there had been a "good exchange" of opinions, Kerry promised that Washington would continue "to promote development and ensure security."
According to a joint statement from the bilateral US-Afghan commission, Kerry assured his Afghan counterparts that Washington would "provide continued financial support," as well as advise and assist the national military and defense forces.
Gareth Porter, a historian and investigative journalist, described Kerry's statements as "transparently a blatant propaganda" that does not correspond with reality.
"It's pretty clear that these explosions were carefully planned by Taliban, it's in line with a long history over the past several years of the Taliban being very adapt sending political messages about the government's inability to provide security in and around the capital," Porter told RT.
The impromptu visit comes amidst continuing rivalry within the Afghan government, coupled with a weakening economy and the resurgence of Taliban, which is believed to be stronger than at any time since the US intervention in 2001.
In the meantime, calls for President Ghani to resign have become louder, particularly from former officials who served under former President Hamid Karzai, who have been joined by other powerful figures that were removed from the government.
You can share this story on social media: