Milking it: Ukrainian populist right-wing politician brings cows to picket government (VIDEO)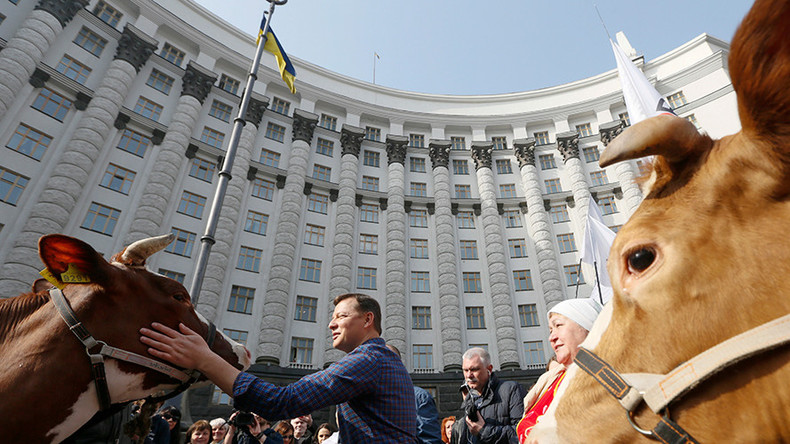 Protests in Ukraine come in many shapes and forms, from the gruesome to the downright bizarre. One of the latter sort was staged in Kiev this week, when a populist right-wing politician brought three live cows to the government to defend the country's agriculture.
Oleg Lyashko heads the Radical Party, which saw significant gains in popularity after the 2014 armed coup and the consequent nationalistic frenzy in Ukraine. He styles himself as a defender of the working man, and even his party logo features a pitchfork – the symbol of rural labor and the bloody peasant revolts of the past.
On Friday, pitchfork in hand, the politician brought three live cows to the Ukrainian cabinet building in the capital. The government in Kiev is on the brink of collapse after the dissolution of the parliamentary ruling coalition, and Lyashko is currently angling for the PM's job.
READ MORE: Ukraine should act like Hitler and Roosevelt & go nuclear like Israel – Radical Party leader
The bovine rally failed to come close to the building, however, which was defended by a police cordon.
"Why are you afraid of cows, fellows?" the politician addressed the officers. "You like milk, don't you? So why are you hiding from the cows?"
Undiscouraged by the obstacle, he proceeded to feed and groom the cows on camera, and explained how he wanted the government to raise the milk price and support farmers. Ukraine's agriculture industry was traditionally strong, but has been hit hard by the ongoing crisis.
Dairy and meat producers lost access to the Russian market when Kiev sought to cut all economic ties with Moscow, and could not compensate the losses elsewhere because the EU quotas for Ukrainian goods turned out to be extremely low. Farmers have also been forced to endure a shortage of credit, rising fuel prices and the abolition of government subsidies, which is a requirement of foreign creditors for future loans to Kiev.
Lyashko's rally is actually the second in which he has used farm animals to gain publicity. In 2011 he tried to bring a live cow to a parliamentary session.
A separate protest in Kiev on Friday happened in front of the offices of the president, where activists burned tires and demanded that Petro Poroshenko sack "separatists in regional administrations" and stop the "prosecution of patriots." The rally ended with clashes between the protesters and riot police.
You can share this story on social media: