5 times Putin used foreign languages for diplomacy (VIDEO)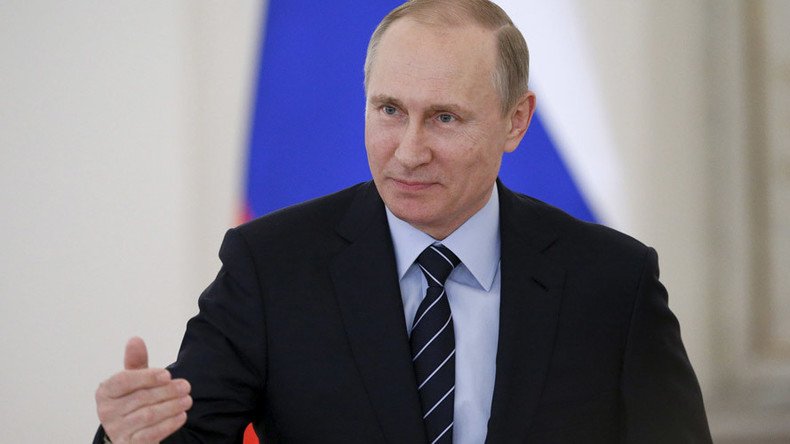 While Putin has amazed the internet with an impromptu interpretation for a German politician in St. Petersburg, that is only one of many episodes when Russia's president proved he could break any language barrier to convey a message or discharge tension.
READ MORE: Putin dazzles with German skills as he unexpectedly steps in as translator at forum (VIDEO)
Thursday's incident at a St. Petersburg forum, which saw Putin casually translating for former State Secretary of the German Defense Ministry, Willy Wimmer, went viral, with the latter only half-jokingly suggesting that the Russian leader's skills were worth including in the Guinness Book of World Records. RT recalls five memorable episodes when Putin didn't shun the opportunity to speak a foreign language in public.
1. Helping out Merkel
Journalists were in for a treat at a 2013 briefing in Hannover following talks between Putin and German Chancellor Angela Merkel when Putin unexpectedly came to Merkel's rescue after she couldn't comprehend a question posed by a Russian reporter. The holdup was due to a technical issue with the simultaneous translation.
As the journalist paused, the Russian President successfully took up the role of fluent interpreter. It's widely known that Putin honed his German skills while serving as an intelligence officer from 1984 to 1990 in the city of Dresden when it was part of the former German Democratic Republic.
2. Famous Bundestag speech
However, Putin's most famous try at German to date remains an epic 20-minute speech he delivered to the deputies of the Bundestag, Germany's Parliament, in September of 2001. After stating that Russia always saw Germany as one of the most important centers of European culture, Putin switched from his native Russian to the "language of Goethe, of Schiller, and of Kant." No need to say that his address was met with a standing ovation on behalf of the startled parliamentarians.
3. Promoting Russian sports & trade
Although far less known, Russia's President doesn't shy away from publicly expressing himself in English either, despite the fact that he has only been learning the language for a few years amid his tight schedule as head of state.
READ MORE: Putin in tune with charity
Putin did not hesitate to employ his newly-acquired skills to garner international support for Russia's bids to host major sport events.
An avid sportsman himself, he personally presented Sochi's bid to host the 2014 Winter Olympics to the International Olympic Committee in a 5-minute speech in English in 2007.
Four years later, he celebrated Russia's success in winning the right to host the 2016 Ice Hockey World Championships by giving a whole speech in English in the Slovakian capital of Bratislava.
In 2013, the Russian President once again resorted to the modern lingua franca to personally appeal to the members of the International Exhibition Bureau as Russia competed to host Expo 2020.
4. 'Welcome' to multi-lingual Russia
Russia's president also inadvertently surprised his English interpreter as he was speaking at the opening of Universiade in Kazan in July of 2013. Putin paid tribute to the Tatarstan Republic's native culture by concluding his speech with the Tatar word "isänmesez" ("welcome"). Apparently, the interpreter simply repeated the word in his translation, as he didn't know what it meant – so Putin stepped in and translated it to the delight of the locals.
Notably, while Russian is the Russia's only official state language, there are some 37 ethnic minority languages that have official status locally. This is still a fraction of 150 languages from over 14 language families that are known to be spoken in the vast multi-ethnic Eurasian country.
5. Sharp-tongued Putin
Putin's renowned wit, while often posing a challenge for interpreters, is not at all limited to Russian. While meeting with Austrian businessmen in Vienna in June of 2014, Putin demonstrated that he can easily use foreign languages to make witty comments.
Putin diffused a seemingly tense moment with one quick comment in German when the president of the Austrian Federal Economic Chamber, Christoph Leitl, started talking about Ukraine and Crimea.
"In 1914, Mr. Putin, Ukraine was a part of Austria…" Leitl intriguingly started, only to be interrupted by the "confused" Russian leader, who wondered: "What does it mean? What are your proposals?"
As Leitl had to pause as the other businessmen giggled, Putin also joked that he was "afraid" to hear what other proposals he might have. The incident ended very goodheartedly, with no war of words ensuing.
You can share this story on social media: