Protesters release tear gas to disrupt Kosovo president's inauguration (VIDEO)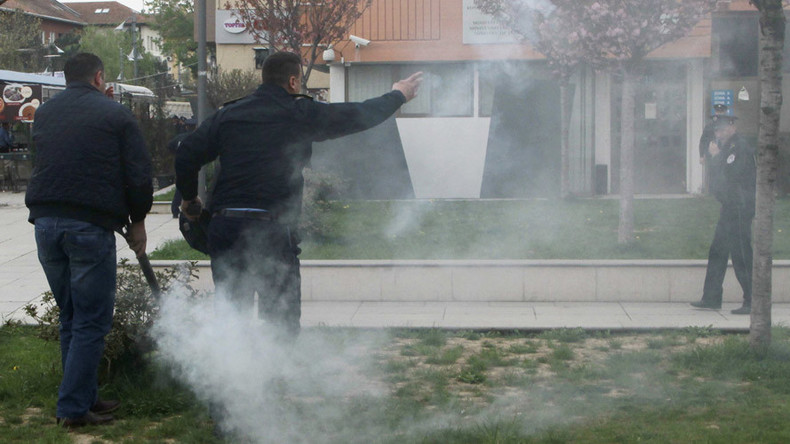 Opposition protesters scuppered the inauguration of Kosovo leader Hashim Thaci by deploying clouds of tear gas. Tensions in Serbia's breakaway province are running high due to laws supposedly aimed at mending relations between ethnic Albanians and Serbs.
Pristina's Skenderbeg Square was briefly evacuated Friday while smoke cleared and the canister-wielding suspect was detained by police.
It's no surprise the event was disrupted by protesters. Thaci's oath of office in the Assembly of Kosovo a day earlier was boycotted by the opposition, who refuse to abide by the historic EU-brokered deal between Serbia and Kosovo, the partially-recognized state that declared independence in 2008.
READ MORE: Get the gas masks out: Opposition MPs disrupt Kosovo parliament with tear gas again
The agreement aims to improve relations between Belgrade and the majority ethnic-Albanian province, which was occupied by NATO in 1999. While rejecting Kosovo's declaration of independence, the pro-US government in Serbia wishes to join the EU, a process conditioned on "normalizing" relations with Pristina.
Thaci is still technically a wanted man in Serbia, due to his leadership in the so-called Kosovo Liberation Army in 1999, which Belgrade considers a terrorist organization. Thaci has insisted the deal is in Kosovo's best interest. However, the opposition "Self-Determination" party argues that it gives preferential treatment to the few Serbs that still live in Kosovo, usually under armed NATO protection.
READ MORE: 'On wave of migration': Kosovo PM admits his brother, other relatives sought asylum in EU