ISIS manpower in Libya doubled over 1 year, top US commander says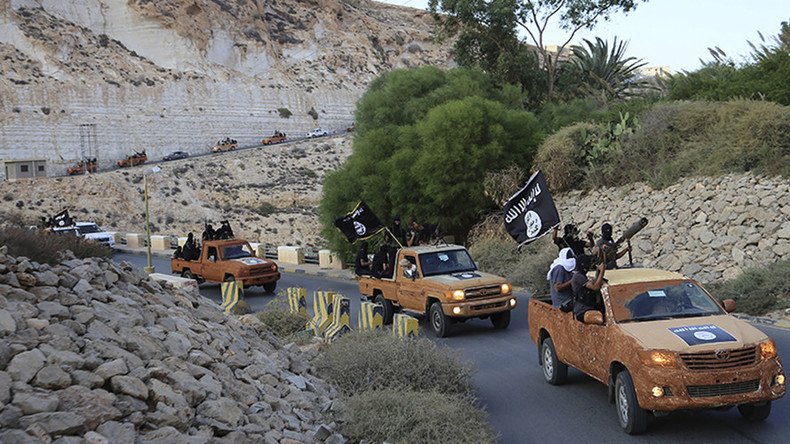 Islamic State (IS, also known as ISIS/ISIL) dramatically increased number of its militants in Libya over the past year, head of US Africa Command has said. Fighters coming from Syria and Iraq are joined by "home-grown" militants.
"US intelligence shows ISIL's numbers in Libya likely have doubled in 12 to 18 months - now estimated to be 4,000 fighters," head of US African Command (AFRICOM) Army General David Rodriguez said at a Pentagon briefing on Thursday, according to a Pentagon's press release.
IS militants are coming to Libya from northern Africa as well as from Iraq and Syria, while some include remnants of the Libyan National Army and various militias, Rodriguez said. Fighters already within Libya have also switched alliances from other groups to IS, he added.
Unlike in Syria and Iraq, IS lacks "home-grown people" who know Libya and its conditions, Rodriguez emphasized.
"Libyan people are also different in the way they treat and respond to foreigners."
The general added that the terror group's principal stronghold is in and around Sirte, once home to deposed Libyan leader Muammar Gaddafi. Some IS forces are also based near Benghazi and Darnah, a port city in eastern Libya.
Whereas the IS' Libyan branch is growing fast, it also plans attacks on Western and US targets, similar to those taking place in Iraq and Syria.
"That's been their aspirations all the time, and they are continuing with the same threats that ISIS main is making," Rodriguez was quoted by the Hill.
'US-led invasion of Libya opened up massive arsenals to terrorists' - Chris Hedges

He said IS' growing presence in Libya directly endangers attempts to build a national unity government that would beat the terror group.
"The government is just getting its feet under itself there," he said. "This is going to take some time for them to, you know move this thing forward."
After the 2011 Western military intervention, Libya landed in a power vacuum and was essentially torn apart. Previously, an internationally recognized government in Tobruk has voted to reject an UN-backed project to form a unity government with a Tripoli-based militia alliance, although it pledged support from major world powers.
Earlier in March, Rodriguez told the Senate Armed Services Committee that Libya is already a failed state. He said that the newly-formed national unity government – otherwise known as the Government of National Accord (GNA) – faces "lack of institutions… fractured society, and multiple competing militias."
"Even with the support of the international community, the GNA will likely struggle for the foreseeable future to establish its authority and secure Libya's territory, borders, resources, and people," Rodriguez warned.
You can share this story on social media: