'I lived in fear, hunger & violence': 11yo Iraqi boy reveals the horrors of being ISIS prisoner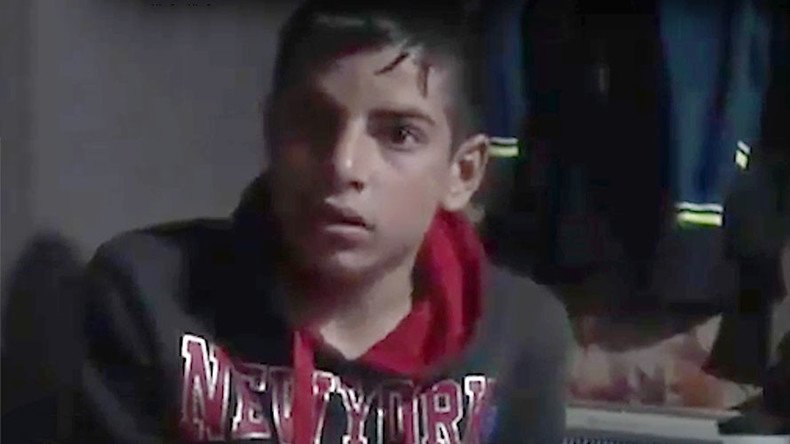 An 11-year-old boy has been speaking of his ordeal after being held prisoner for eight months by Islamic State before he eventually escaped. Ayman Sharaf Khaji told Sputnik of the awful suffering he and 100 Yazidi children had to endure.
It is difficult to image someone so young could have experienced such horrors. However, Ayman remains remarkably composed as he reveals some of the ordeals that he had to face during his eight-month nightmare.
The traumatic experience started in August after he was captured along with his family and thousands of other Yazidis from the Iraqi city of Sinjar by members of Islamic State (IS, formerly ISIS/ISIL).
Ayman was taken to a camp which held around 100 children in total. The site was located in Tal-Afar, halfway between Sinjar and the IS stronghold of Mosul.
"I lived in fear, hunger and violence. I was taught to shoot a machine gun by IS fighters who told us that after the training, we would go and start killing Yazidis in Sinjar. They said that we were the infidels without religion," Ayman said.
Military training was not the only thing that Ayman was taught. He was also indoctrinated with Islamic propaganda and forced to pay homage to IS.
"When some commander passed us by, we were instructed to shout 'Takbir.' They would say 'Takbir' and we would say 'Allahu Akbar.' They would beat whoever did not say this," he said.
The 11-year-old recalled how the militants would urinate in drinking water before giving it to the children to drink. They were also woken up at 4am every day to go to pray, while those who could not wake up were beaten.
Physical punishment was a staple diet of the guards watching over the children, and they would severely beat them for the simplest of mistakes. An inability to read or understand the Koran could sometimes even end in death.
"I said I do not know how to [read the Koran]. Then another boy and I were taken to a very fat ringleader named Mohammed, who locked us in a very narrow closet with no light," Ayman explained. "After some time, four other boys were brought into the adjacent closet and were locked in the same way as us. All of them suffocated from lack of oxygen."
Ayman was eventually sent to another prison to the west of Mosul – Badosh – which is Iraq's second largest jail after Abu Ghraib. The conditions were not much better than those at Tal-Afar.
"We lived in terrible unhygienic conditions. There was no food. We pleaded with the militants to bring at least some milk for small children," Ayman told Sputnik.
Ayman revealed that the people being held at the camp tried to escape on a number of occasions.
"There were 34 of us. But each time some baby started to cry and we quickly returned to our positions, fearing that we might get caught. In the end we managed to escape. We spent the whole day in wheat fields without food or water and then after it became dark, we moved on. As a result, we reached the province of Dohuk and there we were met by soldiers of Yazidi militias that fed us and gave us some clothes," Ayman said.
Ayman and his family are currently living in the Sharya refugee camp in northern Iraq. Although free from the mental horrors that he experienced under IS, life is still tough and the boy dreams of being able to obtain refugee status in Germany and of starting a new life there.
You can share this story on social media: