'Unprecedented vandalism': Man urinates in Kalmyk temple, high-kicks Buddha statue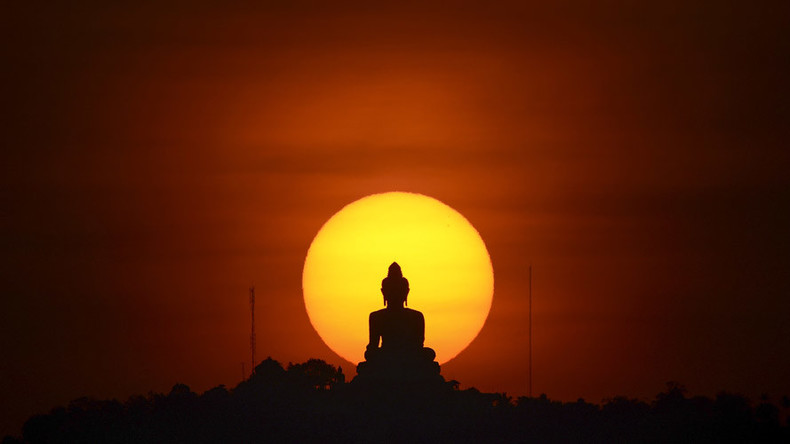 A man from Russia's southern republic of Dagestan has urinated on a statue of Buddha and kicked it in the face during his trip to Kalmykia – all while broadcasting it live on Periscope. The act of vandalism against the religious shrine triggered a criminal investigation.
The incident happened early Saturday morning when a team of athletes, who had flown to take part in a wrestling tournament, toured the capital of Kalmykia, Elista. During the stroll, a 22-year-old athlete, Said Osmanov, relieved himself on the statue and then hit the nose of Buddha with his foot.
The entire spectacle was broadcast live on Periscope and immediately sparked outrage among local Buddhists, who descended on Osmanov's hotel, driving him out into the street.
The wrestler was forced down to his knees by the angry crown who made him apologize. Once police arrived at the scene they took the Dagestani man into custody.
Responding to the embarrassment which led to the suspension of the tournament, the head of the Dagestan Republic, Abdusamadov Gamidov, flew to Kalmykia to personally apologize for the behavior of his countryman. In a joint statement with Kalmykia's governor Alexey Orlov, the two condemned the act and announced that the wrestler will be criminally prosecuted.
The 22-year-old Dagestani, Orlov said, committed "an unprecedented, blatant act of vandalism against our national, religious shrines," adding that people "who commit such actions do not have a nationality."
Gadomov for his part added that "all Dagestanis condemn this immoral act of our countryman....[and convey] deepest apologies to our brotherly Kalmyk people."
Osmanov could be prosecuted under a 2013 law, known as Article 148, that criminalizes acts that insult people's religious feelings and beliefs. If convicted, he may face up to a year in prison or a fine of 300,000 rubles ($4,065)