Outraged Greek farmer plows tractor through refugee camp (VIDEO)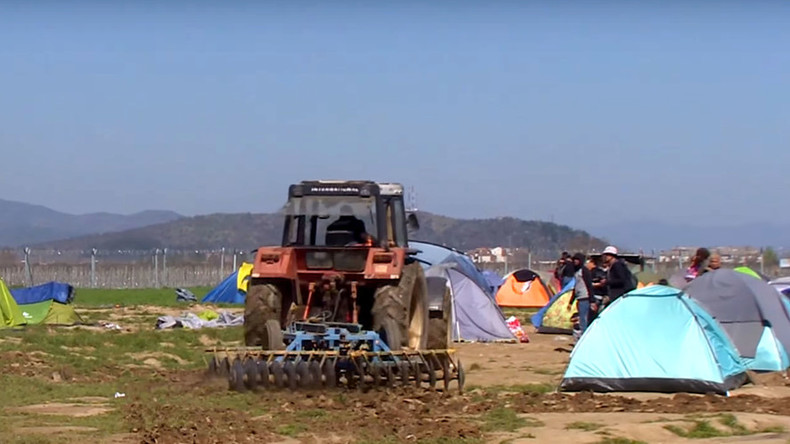 A Greek farmer, who has had enough of refugees tenting on his land near the Idomeni border crossing with Macedonia, plowed through the campsite on his tractor, destroying tents and scaring the inhabitants.
Several police officers were called on site on Thursday in order to persuade farmer, Lazaros Oulis, to stop plowing and abandon the vehicle.
Oulis explained his harsh actions with the need to produce food for his cows, the Greek media reported.
"I need to plow my field. Not somebody else's field – mine! I have a business with 70-80 calves. I want to produce, feed them, because, financially, I can't take this anymore," he explained.
The farmer said that he had "no problem at all" with the refugees and understood how difficult things were for them, but stressed that he had obligations of his own.
One of the refugees, whose tent was destroyed, called Oulis "a crazy man," telling RT's Ruply video agency that his children and him now have no place to sleep.
READ MORE: Clashes erupt between refugees, riot police at Greece's Idomeni camp (VIDEO)
However, his fellow migrant Reshal Hamdo of Syria said that he understood the farmer's feelings.
"He is right. I say that he is right because it's his land. We don't know what we will do, this is not our country. It's not our land," Hamdo said.
Some refugees said that Oulis started plowing the camp after a canteen he had set up on the site stopped bringing profit due to being outdone by eateries with lower prices.
On Saturday, residents of the Idomeni village blocked a road leading to the refugee camp to denounce its continued existence.
The rise in protest moods among the Greek population in the Idomeni area, which is mainly involved in agriculture, is explained by the fact that "cultivation season has started," Xanthoula Soupli, the president of the local community, said.
"People have lost their daily lives, they are locked in their houses all the time, they cannot walk around Idomeni's central square" because of the migrants, she stressed.
"Of course, we supported them from the beginning. We opened our houses. We were next to them, but it is impossible for a village of 100 to deal with 14,000 refugees and migrants," Soupli added.
READ MORE: Greek broadcaster opens Arabic language channel for refugees
Thousands of refugees on their way to Germany and other Northern European states set up an improvised camp in Idomeni after the Macedonian authorities decided to close the border with Greece.