Pre-orders of Tesla Model 3 hit almost 200K in 24 hours
Published time: 2 Apr, 2016 04:12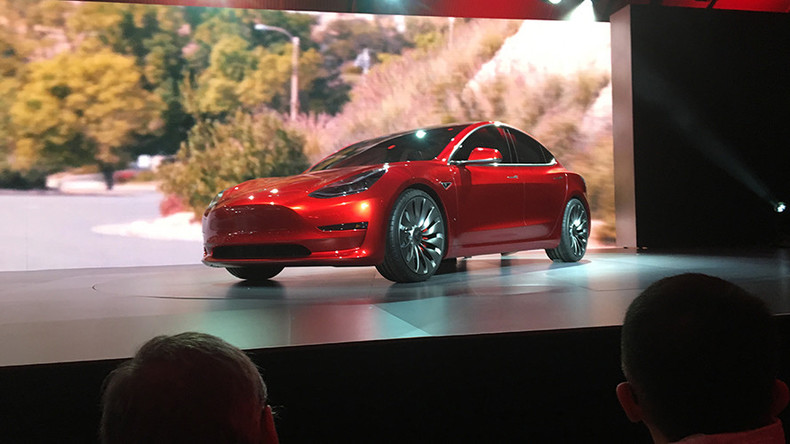 Only one day after unveiling its Model 3, electric car maker Tesla has revealed that its pre-orders have almost hit 200,000.
Those interested in the car were asked to place a $1,000 deposit on the vehicles, which would help in the production costs, and this certainly hasn't deterred people with Tesla's CEO Elon Musk taking to Twitter on Friday to say that pre-orders had hit 180,000.
A short while later, Musk tweeted again to say the orders had continued to roll in with a total of 198,000 now placed.
With each car averaging at a cost of $42,000 that means that, if these reservations translate into actual sales once the car is delivered, Tesla would take in over $8.3 billion
With figures like that, it's no surprise that Musk tweeted to say that the "future of electric cars [is] looking bright."
Musk added that he would "recommend ordering soon, as the wait time is growing rapidly," while also saying that they were "definitely going to need to rethink production planning."
At the car's unveiling on Thursday, Musk detailed how the car will be able to go at least 215 miles per charge and go from 0 to 60mph in less than six seconds, which left many thrilled.
Some have called Tesla the Apple of the automotive world.
Others also complimented Musk on his interaction with Twitter users after the product launch, with the company head answering various questions posed to about the car on the social network.
One question raised after the Model 3's unveiling involved the source of all the lithium for the batteries used to power the cars.
Musk said during the launch that the company's so-called Gigafactory will produce more lithium batteries than all other facilities combined, and at a cheaper cost, although no major deals with lithium producers have been announced.
However, a number of big producers of lithium have already said they're not willing to supply the metal at the prices Tesla has demanded.
As evidenced in the number of people interested, the demand for the highly sought-after metal can only increase, which in turn will make it more expensive.
With 70 percent of the world's known lithium reserves currently found in Chile, Argentina and Bolivia, the global lithium market is already approaching a shortage, Fortune reported, although there are hopes that the United States' only operating lithium mine, located in Nevada, may be home to as yet undiscovered lithium.